Project Based Learning
PBL Tutorials | Online Resources. Projects. As of July 1, 2013 ThinkQuest has been discontinued.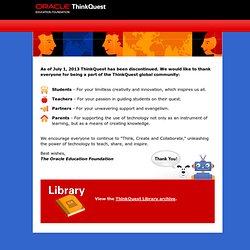 We would like to thank everyone for being a part of the ThinkQuest global community: Students - For your limitless creativity and innovation, which inspires us all. Teachers - For your passion in guiding students on their quest. PBL + Edmodo = Awesome. Tagged with: Bianca HewesFeatured BloggerPBL Friday with Bianca!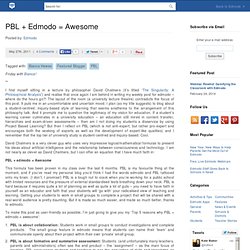 I find myself sitting in a lecture by philosopher David Chalmers (it's titled 'The Singularity: A Philosophical Analysis') and realise that once again I am behind in writing my weekly post for edmodo – where do the hours go?! The layout of the room (a university lecture theatre) contradicts the focus of this post. It puts me in an uncomfortable and uncertain mood. Project-Based Learning. Seven Ways to Build Your Own Educational Games. There are hundreds of places to find educational games and quizzes on the Internet.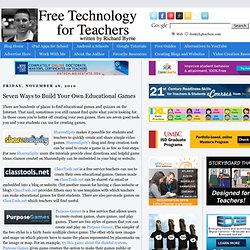 That said, sometimes you still cannot find quite what you're looking for. In those cases you're better off creating your own games. Here are seven good tools you and your students can use for creating games. Sharendipity makes it possible for students and teachers to quickly create and share simple video games. Sharendipity's drag and drop creation tools can be used to create a game in as few as four steps.
---