Project Based Learning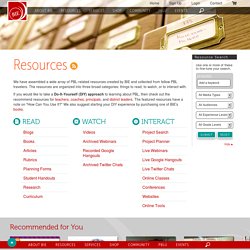 We have assembled a wide array of PBL-related resources created by BIE and collected from fellow PBL travelers. The resources are organized into three broad categories: things to read, to watch, or to interact with. Things to read include blogs, books, articles, and research about PBL, and also written documents you can use – rubrics, project planning forms, student handouts, and other materials for planning, assessing, and managing projects.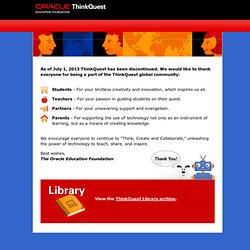 Enroll Create a Project Choose a topic and specify the goals and target age range Add Members Assign students from your class or collaborate with other members around the world Start Creating Add pages, and fill them with text, lists, pictures, multimedia, interactive discussions, votes, and more.
PBL + Edmodo = Awesome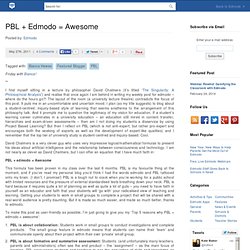 Tagged with: Bianca HewesFeatured BloggerPBL Friday with Bianca! I find myself sitting in a lecture by philosopher David Chalmers (it's titled 'The Singularity: A Philosophical Analysis') and realise that once again I am behind in writing my weekly post for edmodo – where do the hours go?! The layout of the room (a university lecture theatre) contradicts the focus of this post. It puts me in an uncomfortable and uncertain mood.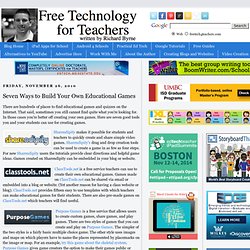 Seven Ways to Build Your Own Educational Games
There are hundreds of places to find educational games and quizzes on the Internet. That said, sometimes you still cannot find quite what you're looking for. In those cases you're better off creating your own games. Here are seven good tools you and your students can use for creating games. Sharendipity makes it possible for students and teachers to quickly create and share simple video games. Sharendipity's drag and drop creation tools can be used to create a game in as few as four steps.