Trends
Chrome en passe de détrôner Firefox de sa deuxième place. Mardi 4 octobre Navigateurs - 4 octobre 2011 :: 08:09 :: Par Nicolas-Lecointre Le navigateur de Google gagne en popularité.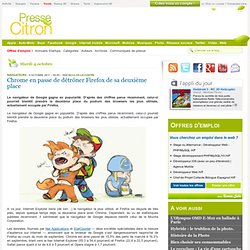 Gamification
Augmented Reality. Curation. Dataviz. Materialization. CHART OF THE DAY: Android Blows Past iPhone -- Even If You Include iPod Touch. +1's: the right recommendations right when you want them—in your search results. Our goal at Google is to get you the most relevant results as quickly as possible.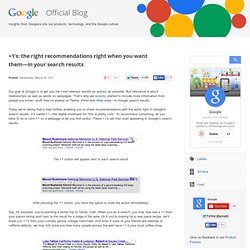 But relevance is about relationships as well as words on webpages. That's why we recently started to include more information from people you know—stuff they've shared on Twitter, Flickr and other sites—in Google search results. New 'Flex' Touchscreen Interface Demonstrated Using Google Maps #DigInfo. What Will a Typical 2050s Home be Like? The home of the future is unlikely to be the curvy white pod of science fiction.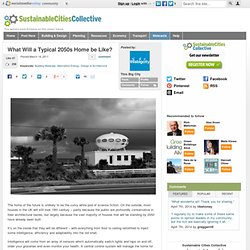 On the outside, most houses in the UK will still look 19th century – partly because the public are profoundly conservative in their architectural tastes, but largely because the vast majority of houses that will be standing by 2050 have already been built. It's on the inside that they will be different – with everything from floor to ceiling retrofitted to inject some intelligence, efficiency and adaptability into the old shell. Intelligence will come from an array of sensors which automatically switch lights and taps on and off, order your groceries and even monitor your health. A central control system will manage the home for maximum efficiency, and show when the fridge needs defrosting, or if the micro-generator isn't running at full efficiency.
Houses will be interactive and fully wireless, allowing us to access data from any point. Patricia Kuhl: The linguistic genius of babies. IBM's Watson supercomputer destroys all humans in Jeopardy. The State of Wikipedia. IBM Next 5 in 5 -- 2010. CHART OF THE DAY: How Long Until Facebook Passes Google In Traffic? Prioritaire Gmail. Chacha club. Wikipedia : La vidéo fait son apparition. Vous le savez certainement, Wikipedia offre la possibilité d'enrichir son contenu.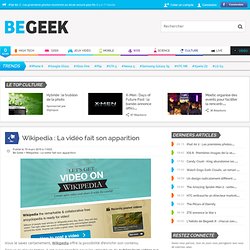 Depuis quelques temps, il est aussi possible pour les utilisateurs de publier leurs vidéos sur l'encyclopédie. Pour les lire, hors de question d'avoir besoin de Flash ou Silverlight, les contenus devront être encodés au format ouvert Ogg Theora et seront intégrés au site via un lecteur adapté de la plateforme Kaltura HTML5. Pour poster une vidéo sur Wikipedia il faudra tout d'abord passer par cette page afin d'activer l'option. The incredible world of Diminished Reality. Setting Up Gmail Delegation. Quinze ans d'Internet, un retour en images. 2006 : Twitter est désormais abonné à vos tweets - Tweet, followers, RT...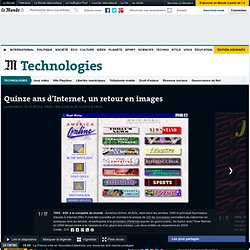 Twitter a inventé son propre langage, obscur pour les (nombreux) non-initiés. Allant à contre-courant des blogs où chacun s'expose longuement, Twitter limite l'expression à 140 caractères. Humeur du moment, course au bon mot ou partage de liens sont devenus les principales utilisations du site, fréquenté essentiellement par les journalistes et les personnes gravitant autour d'Internet. Le grand public ne semble, lui, pas adhérer au concept.Crédits : D.R. facebook twitter google + linkedin pinterest.
Mapping
Ben the Bodyguard. Coming soon to iPhone® and iPod touch®
---