Career Planning
Approaching the case | Careers. For those of you feeling anxious about interviews with McKinsey, relax.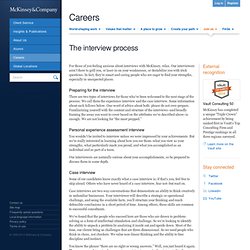 Our interviewers aren't there to grill you, or laser in on your weaknesses, or destabilize you with trick questions. In fact, they're smart and caring people who are eager to find your strengths, especially in unexpected places. 30 Things to Stop Doing to Yourself. Post written by: Marc Chernoff Email When you stop chasing the wrong things you give the right things a chance to catch you.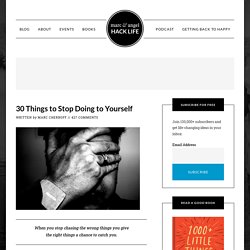 As Maria Robinson once said, "Nobody can go back and start a new beginning, but anyone can start today and make a new ending." Nothing could be closer to the truth. But before you can begin this process of transformation you have to stop doing the things that have been holding you back. The 10 Best Questions to Ask at a Job Interview. You're interviewing for a job.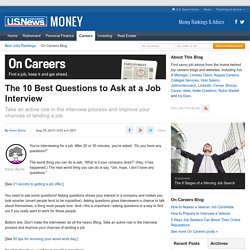 After 20 or 30 minutes, you're asked: "Do you have any questions?" The worst thing you can do is ask, "What is it your company does?" 50 interview questions and answers, really helpful! (long post) Find IT jobs in the financial sector on the eFinancialCareers website. Information Technology: currently 1333 jobs.The latest job was posted on 16 Apr 14.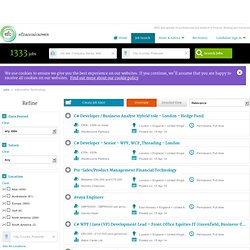 This section contains all our Information Technology jobs within investment banks, asset managers, hedge funds, private equity funds, insurance companies, and other financial services firms. The right technology is often the differentiating factor in giving a financial services company the edge over its competitors. It can also, in the long run, help the organisation save money. Not surprisingly, therefore, firms in the financial sector are among the biggest spenders on IT recruitment. In an investment bank, the really big user of technology is the trading floor and everything related to it. Computing Interviews. Interviews for computing/IT jobs including a practice interview.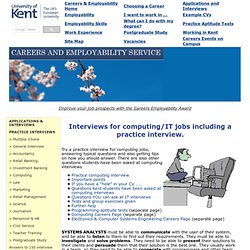 Try a practice interview for computing jobs, answering typical questions and also getting tips on how you should answer. There are also other questions students have been asked at computing interviews. SYSTEMS ANALYSTS must be able to communicate with the user of their system, and be able to listen to them to find out their requirements. They must be able to investigate and solve problems. Top 10 Traits Of Highly Successful People. Rating: 8.2/10 (185 votes cast) We have all read about people who are successful briefly.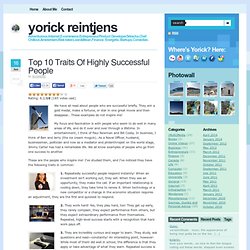 They win a gold medal, make a fortune, or star in one great movie and then disappear. …These examples do not inspire me!
---