Productivity
Узнай | re:PocketMod - новый бумажный органайзер. PocketMod - это 8-страничный органайзер, который делается из одного листа формата А4.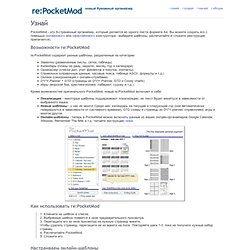 Вы можете создать его с помощью онлайнового или оффлайнового конструктора - выберите шаблоны, распечатайте и сложите (инструкция прилагается). Возможности re:PocketMod re:PocketMod содержит разные шаблоны, разделенные на категории: Заметки (размеченные листы, сетки, таблицы) Календарь (планы на день, неделю, месяц, год и календари) Органайзер (списки дел, учет финансов и покупок, контакты) Справочник (справочные данные: часовые пояса, таблица ASCII, формулы и т.д.)
Онлайн (синхронизация с онлайн-службами) D*I*Y Planner + GTD (страницы из D*I*Y Planner, GTD и Covey charts) Игры (морской бой, крестики-нолики, лабиринт, судоку и т.д.) PocketPomodoro.pdf - Документы Google. Pocket Pomodoro - Jane Dallaway. Data loving developer/ leader/ product shaper, life-long learner, dog owner, crafter, 30yearsagotoday tweeter, photographer, reader, brightonbloggers administrator, occasional gardener and even more occasional snowboarder This blog contains random thoughts on random subjects — sometimes about stuff I've made (via craft or code), sometimes my rants and ramblings about a miscellany of things, and sometimes more personal, reflective pieces.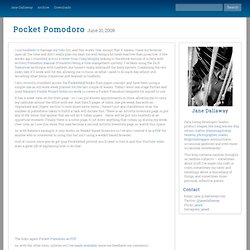 Email: jane @ dallaway.com Twitter: @janedallaway Flickr: janed Instagram: janed I use toodledo to manage my todo list, and this works fine, except that it means I have my browser open all the time and don't really plan my days too well being a bit more reactive than proactive. A few weeks ago I stumbled across a tweet from Craig Murphy linking to the ebook version of a (very well written) Pomodoro manual (Pomodoro being a time mangement system). Pomodairo-1.9.air - pomodairo - Pomodairo v1.9 - An Air application for working with the Pomodoro technique. Pomotodo.apk - pomotodo - v1.0.1 - PomoTodo. Pomodoro & Toodledo.
---