Hansen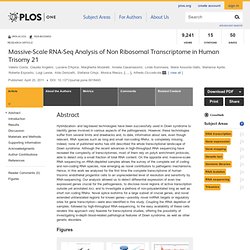 Hybridization- and tag-based technologies have been successfully used in Down syndrome to identify genes involved in various aspects of the pathogenesis. However, these technologies suffer from several limits and drawbacks and, to date, information about rare, even though relevant, RNA species such as long and small non-coding RNAs, is completely missing.
Massive-Scale RNA-Seq Analysis of Non Ribosomal Transcriptome in Human Trisomy 21
[BioC] a few questions on DESeq
unnamed pearl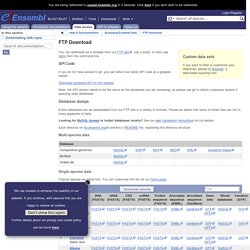 Custom data sets
FTP Download
Mozilla Firefox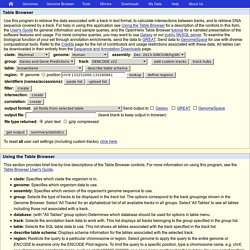 Use this program to retrieve the data associated with a track in text format, to calculate intersections between tracks, and to retrieve DNA sequence covered by a track.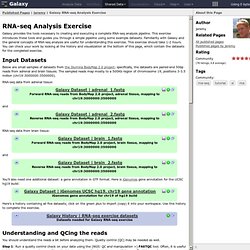 Galaxy | Published Page | Galaxy RNA-seq Analysis Exercise
Galaxy provides the tools necessary to creating and executing a complete RNA-seq analysis pipeline. This exercise introduces these tools and guides you through a simple pipeline using some example datasets.
Galaxy
Whole Transcriptome Analysis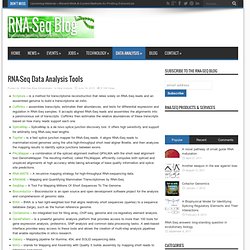 Jun
Seq Data Analysis Tools
data-images.Par.17842.Image.-1.0.1.gif (GIF Image, 645x442 pixels)
You are here: Home > Section on Eukaryotic Gene Regulation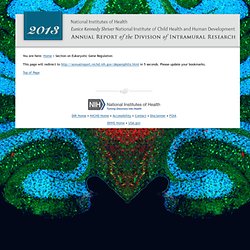 2010 Annual Report of the Division of Intramural Research, NICHD | Section on Eukaryotic DNA Replication and Gene Regulation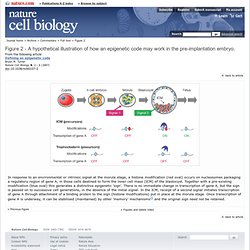 In response to an environmental or intrinsic signal at the morula stage, a histone modification (red oval) occurs on nucleosomes packaging a regulatory region of gene A, in those cells destined to form the inner cell mass (ICM) of the blastocyst. Together with a pre-existing modification (blue oval) this generates a distinctive epigenetic 'sign'. There is no immediate change in transcription of gene A, but the sign is passed on to successive cell generations, in the absence of the initial signal.
Figure 2 : Defining an epigenetic code : Nature Cell Biology
Taxonomy browser (Bos taurus)
The genome of the domestic cow, Bos taurus , was sequenced using a mixture of hierarchical and whole-genome shotgun sequencing methods. The sequences were assembled by the Center for Bioinformatics and Computational Biology at University of Maryland ( CBCB ) using the Celera Assembler [1] . Two major releases have been made available to the public: UMD2 (April 2009) [2] and UMD3.0 (August 2009) [3] .
Bos taurus assembly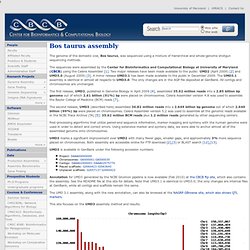 RNA Seq - GQ Wiki
From GQ Wiki