Bioinformaics
Sequence conversion tool (multi-format) - bugaco.com.
Illumina
Methylation. Blast. RNA-Seq. Bfast. GO. GQ. SNP. Genomebrowser. ICBR. Bfast. Sequencing. Scholars. Normalization. Methylation. Assembly. Conference. Journals. Bioinfor club. Bwa.1. Bwa - Burrows-Wheeler Alignment Tool SynopsisDescriptionCommands And OptionsSam Alignment FormatNotes On Short-read Alignment Alignment Accuracy Estimating Insert Size Distribution Memory Requirement SpeedChanges In Bwa-0.6See AlsoAuthorLicense And CitationHistory bwa index ref.fa bwa mem ref.fa reads.fq > aln-se.sam bwa mem ref.fa read1.fq read2.fq > aln-pe.sam bwa aln ref.fa short_read.fq > aln_sa.sai bwa samse ref.fa aln_sa.sai short_read.fq > aln-se.sam bwa sampe ref.fa aln_sa1.sai aln_sa2.sai read1.fq read2.fq > aln-pe.sam bwa bwasw ref.fa long_read.fq > aln.sam BWA is a software package for mapping low-divergent sequences against a large reference genome, such as the human genome.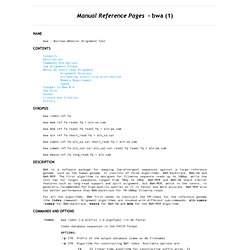 It consists of three algorithms: BWA-backtrack, BWA-SW and BWA-MEM. The first algorithm is designed for Illumina sequence reads up to 100bp, while the rest two for longer sequences ranged from 70bp to 1Mbp. SOAP :: Short Oligonucleotide Analysis Package. The executable program and source code are now available on SourceForge: Other related tools(Know more): SOAPec_v2.01.tar.gz, a correction tool for SOAPdenovo: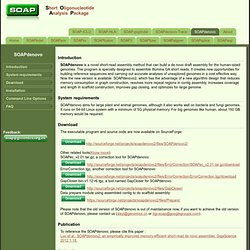 Inchworm RNA-Seq Assembler. v6.0: Citrus sinensis. Sweet orange (citrus, Citrus sinensis) represents the largest citrus cultivar group grown in the world, accounting for about 70% of the total.
Brazil, Florida (USA), and China are the three largest sweet orange producers. Sweet orange is considered an introgression of a natural hybrid of mandarin and pummelo. The goal of the Citrus Genome Project is to generate a draft sequence of the sweet orange genome using Next Generation (454) sequence generated by 454 Life Sciences (team headed by Chinnappa Kodira), University of Florida (team headed by Fred Gmitter) as well as Sanger sequence generated by JGI (team led by Daniel Rokhsar).
EST sequence has been generated by JGI, University of Florida, and 454 Life Sciences. The SOLiD™ Community: Created specifically for people involved in next-generation sequencing, the SOLiD Community provides a forum for meaningful discussions and interactions with other sequencing experts and SOLiD™ System users. Blastall tutorial. Introduction BLAST stands for Basic Local Alignment Search Tool.
It uses the algorithm of Altschul et al. (J.Mol. Biol. 215; 403-410 (1990)) to search for similarities between a query sequence and all the sequences in a database.
---