Notifications
30 Stylish jQuery Tooltip Plugins For Catchy Designs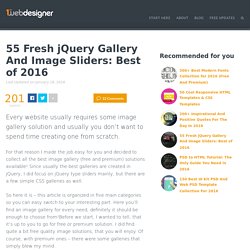 Tooltips on website are small things which can play a big role in website design. If a tooltip on your website is very well made and looks amazing then it can lift up visitors impression about your website. And that's why here comes jQuery to help with its well made tooltips. And remember that all those small website design things make your website look better. So this time I will show you my Top 30 of jQuery tooltip plugins.
Il y avait fort longtemps que je ne vous avais pas fait d'article sur jQuery , à vrai dire, il y avait fort longtemps que je ne vous avais pas fait d'article tout court. Cette fois je vais vous parler d'un plugin jQuery assez sympa (du moins je l'apprécie) et qui va vous permettre de réaliser vos tooltips de manière esthétique, mais surtout avec beaucoup de possibilités, comme y insérer des images, du texte, des vidéos etc… Ce plugin jQuery , c'est qTip .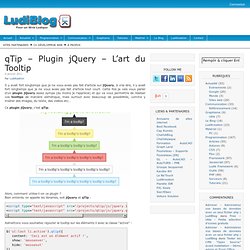 qTip – Plugin jQuery – L'art du Tooltip
jNotify permet de faire surgir une boite pour informer l'utilisateur du bon ou du mauvais déroulement des opérations. Les trois sortes de boites prévues (information, succès et échec) sont totalement personnalisables via les CSS. L'appel des fonctions s'effectue en spécifiant une ligne par type de notification désirée. Il est possible d'appeler une fonction de Callback à votre convenance.
jNotify — Affichez une boite de notification animée