Jquery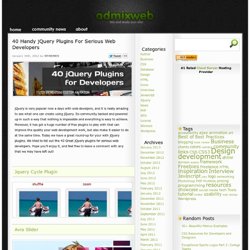 jQuery is very popular now a days with web develpors, and it is really amazing to see what one can create using jQuery. Its community backed and powered up in such a way that nothing is impossible and everything is easy to achieve.
40 Handy jQuery Plugins For Serious Web Developers
jQuery Tagging Tools — Interface de gestion des tags comme Facebook
8 Useful jQuery Mobile Tutorials
jQuery mobile framework takes the "write less, do more" mantra to the next level: Instead of writing unique apps for each mobile device or OS. Although jQuery Mobile is still relatively new but with jQuery Mobile, developers can write applications as website, RSS reader for a lot of mobile devices, including smart phones and tablets.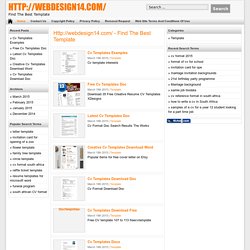 10 jQuery Scripts To Optimize Forms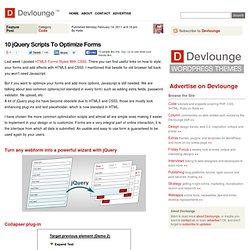 Last week I posted HTML5 Forms Styled With CSS3 . There you can find useful links on how to style your forms and add effects with HTML5 and CSS3.
As they promised, jQuery Team released a new version of jQuery today.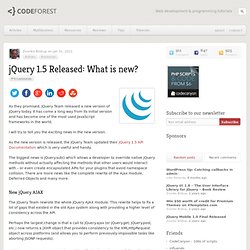 jQuery 1.5 Released: What is new?
jQuery Frontier Calendar est un plugin jQuery permettant de créer rapidement un calendrier riche à la Google Agenda . Voici un plugin très pratique si vous souhaitez mettre en place un système de calendrier sur votre site web. Avec un design très classe à la Google Agenda, jQuery Frontier Calendar bénéficie des fonctionnalités de base d'un agenda: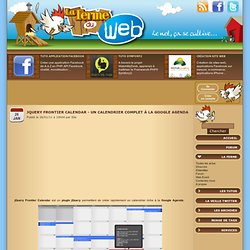 jQuery Frontier Calendar - Un calendrier complet à la Google Agenda
Once upon a time, grayscale image has to be manually converted in order to be displayed on the web. Now with HTML5 canvas, images can be manipulated into grayscale without having to use image editing software.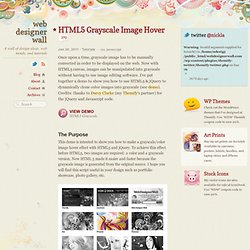 Plugins jQuery pour manipuler vos tableaux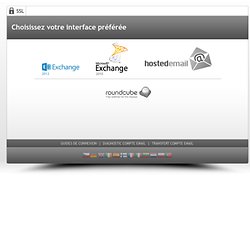 JQuery a énormément apporté à l'enrichissement des interfaces web et c'est notamment le cas concernant nos bon bien tableau de données.
L'approche MVC en javascript avec backbone.js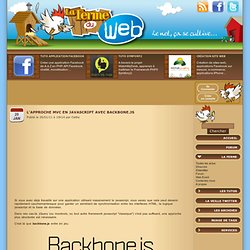 Si vous avez déjà travaillé sur une application utilisant massivement le javascript, vous savez que cela peut devenir rapidement cauchemardesque pour garder un semblant de synchronisation entre les interfaces HTML, la logique javascript et la base de données.
A Snazzy Animated Pie Chart with HTML5 and jQuery
Home : Articles : A Snazzy Animated Pie Chart with HTML5 and jQuery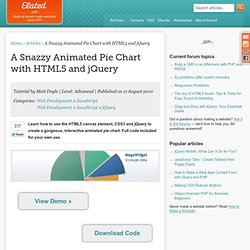 We visit thousands of web pages and log in to hundreds of them.
jQuery Live Login inspired by Google Instant Search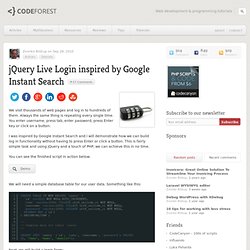 Un plugin jQuery de détection de visages
Tout ce qui touche à la reconnaissance d'image m'a toujours fasciné.
SmartUpdater est un plugin jQuery permettant de lancer une requête Ajax périodiquement sur son serveur.
Smartupdater - Interrogez périodiquement votre serveur avec jQuery
GMAP3 – Plugin jQuery – L'API Google Map v.3 Integration à la sauce jQuery
Aujourd'hui je vais vous parler d'un autre plugin jQuery : GMAP3 . Un plugin qui va vous permettre d'utiliser l' API Google Map v3 Integration via le framework javascript jQuery . Ce qui facilite l'utilisation de l' API de Google pour les habitués de jQuery .
philip beel 05 Jan 2011
Tweetable 1.6 launched | web dev & design blog
Freeow!
Freeow! - Un plugin jQuery de notifications avancées à la Growl
jQuery File Upload