Dev
40 useful APIs for web designers and developers. An application programming interface (API) is a set of rules and specifications that software programs can follow to communicate or 'interface' with each other.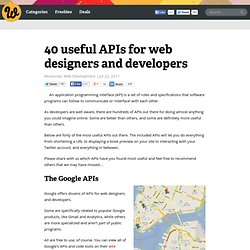 As developers are well aware, there are hundreds of APIs out there for doing almost anything you could imagine online. Some are better than others, and some are definitely more useful than others. La RATP menace un développeur. La RATP a déjà montré par le passé son intérêt pour vos données personnelles avec son magnifique Pass Navigo qui vous fiche et vous trace.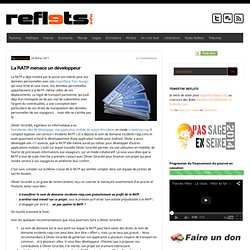 Vos données personnelles appartiennent à la RATP, même celles de vos déplacements. La régie de transport parisienne, qui jouit déjà d'un monopole (et de pas mal de subventions avec l'argent du contribuable), a une conception bien particulière de ses droits de manipulation des données personnelles de ses voyageurs… mais elle ne s'arrête pas là. Olivier Girardot, ingénieur en informatique a eu l'excellente idée de développer une application mobile de report d'incidents en mode crowdsourcing. Il comptait baptiser son service « Incidents RATP » (il a déposé le nom de domaine incidents-ratp.com) et avait quasiment achevé le développement d'une application mobile pour Android. Olivier a aussi développé une API ouverte, que la RATP elle-même aurait pu utiliser pour développer d'autres applications mobiles.
Facebook. Webdesign. Php. Html. Les technologies Web et les tendances à surveiller en 2011. En ce début d'année 2011, il me semble essentiel sur ce blog de parler des technologies Web et les tendances à surveiller pour cette année.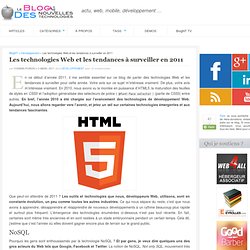 Votre avis sur ce sujet m'intéresse vraiment. De plus, votre avis m'intéresse vraiment. Brian R. Bondy - 12 things web developers should know about Firebug. Most web developers have heard of, and used Firebug, but perhaps don't know its full power.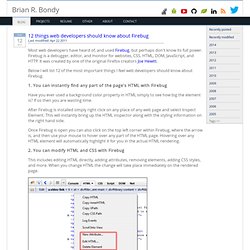 Firebug is a debugger, editor, and monitor for websites, CSS, HTML, DOM, JavaScript, and HTTP. It was created by one of the original Firefox creators Joe Hewitt. Below I will list 12 of the most important things I feel web developers should know about Firebug. 1.
SEO. Jquery.
---