Autres Découvertes
« QUOTE OF THE WEEK: "Bad Code is Good Business" | Sacred Cow Dung Home | High-Performance Social Networking - Part II: The Natural Life-Cycle of a Personal Network » March 10, 2006 All Things Web 2.0 - "THE LIST"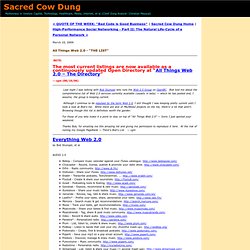 startuptools / FrontPage
Start-up Tools Categories Search Bugs & Issue Tracking Methodology Open SourceCommercial assembla (Hosted / Saas) Bontq (Hosted / Saas)Bugrocket (Hosted / SaaS) Fogbugz (Download and SaaS) Intervals (Hosted / Saas) JIRA (Download and SaaS)Lighthouse (Hosted / Saas)Ontime (Hosted / SaaS ) Pivotal Tracker (Hosted / SaaS) PlayNice.ly (Hosted / Saas) plan.io (Hosted / Saas)RT : Request Tracker (Download and SaaS)SifterApp (Hosted / Saas) Rails Specific Exceptional (Rails-specific)Hoptoad (Rails-specific)Redmine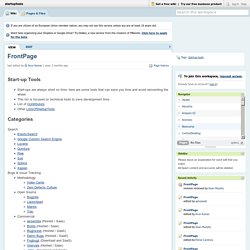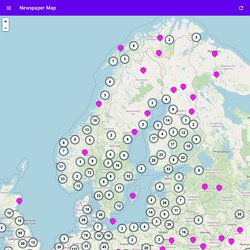 We have indexed all newspapers and plotted their correct locations, in 39 countries. Might have missed some. And most newspapers in another 199 countries, a bunch of them not in their correct locations. Add new ones here: add/correct
Shareable sticky notes web-app.
Personas is a component of the Metropath(ologies) exhibit, originally on display at the MIT Museum by the Sociable Media Group from the MIT Media Lab. It has been shown in 7 exhibits around the world since, from Peru to Italy. It uses sophisticated natural language processing and the Internet to create a data portrait of one's aggregated online identity.