Psychology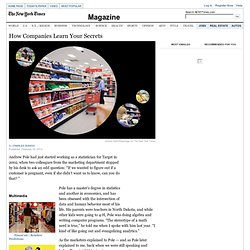 Pole has a master's degree in statistics and another in economics, and has been obsessed with the intersection of data and human behavior most of his life. His parents were teachers in North Dakota, and while other kids were going to 4-H, Pole was doing algebra and writing computer programs. "The stereotype of a math nerd is true," he told me when I spoke with him last year. "I kind of like going out and evangelizing analytics." As the marketers explained to Pole — and as Pole later explained to me, back when we were still speaking and before Target told him to stop — new parents are a retailer's holy grail. Most shoppers don't buy everything they need at one store.
The Misconception : You do nice things for the people you like and bad things to the people you hate. The Truth : You grow to like people for whom you do nice things and hate people you harm. Benjamin Franklin knew how to deal with haters. Born in 1706 as the eighth of 17 children to a Massachusetts soap and candlestick maker, the chances Benjamin would go on to become a gentleman, scholar, scientist, statesman, musician, author, publisher and all-around general bad-ass were astronomically low, yet he did just that and more because he was a master of the game of personal politics.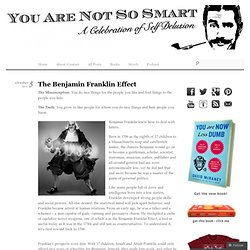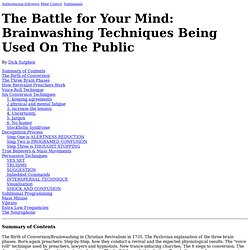 Authoritarian followers Mind Control Subliminals By Dick Sutphen Summary of Contents The Birth of Conversion The Three Brain Phases How Revivalist Preachers Work Voice Roll Technique Six Conversion Techniques 1 . keeping agreements 2 . physical and mental fatigue 3. increase the tension 4. Uncertainty. 5.