Outils/video/slide...
Traduction
Micro-formation : Webinaire - la WebTV d'UbiCast
DimDim | Fiche logiciel PLUME
Fonctionnalités générales DimDim est un environnement de web conferencing développé sur le modèle Client/serveur. Le Client ne nécessite aucune installation, puisqu'il est accessible par un simple navigateur. Le site de téléchargement donné sur cette fiche concerne donc le serveur DimDim. DimDim est un outil open source de webconferencing permettant de : partager des présentations de type Powerpointpartager l'écran de son ordinateurnaviguer de façon synchrone sur un site web partager un tableau blanc sur lequel chacun des intervenants peut interagir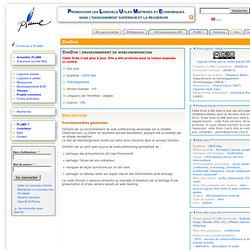 Description La diffusion de séminaires ou de conférences en direct sur le web s'est largement répandue ces dernières années. En effet, la diffusion sur le web permet d'atteindre une audience plus large.
Webinaire : description et outils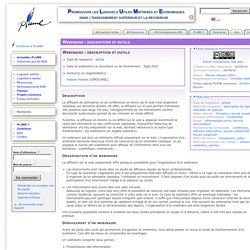 Knovio is a trademark of KnowledgeVision Systems, Inc. All other trademarks and copyrights are property of their respective owners. Whether for business, education or individual use, Knovio adds your personality and improves the effectiveness of any presentation.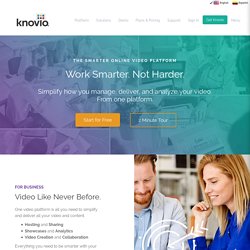 10 Web Apps pour un workflow plus fluide en ligne | Onextrapixel - Accentuer Traite Web sans accroc
When trying to be efficient online there are many factors an App needs to be able to perform. It's often not enough that they have a slick UI and great features. They need to be built in a way that I can integrate them without too much trouble into my daily workflow without too much disruption. Web Apps Here are 10 Apps that make working online a lot easier because of the smart thinking behind the Apps. Clutter-free to Do Lists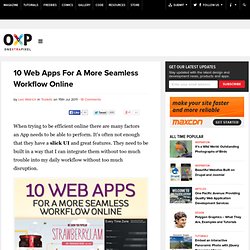 Chaîne de loiclemeur‬‏
Vidéo SlideShare et présentations PowerPoint | Solutions puissantes de communication - une vidéo Vie pratique
Chaîne de loiclemeur‬‏
CDDP37 Episode 7 : Une présentation de SlideShare ? - une vidéo Art et Création
Chaîne de loiclemeur‬‏