Vegetarianism
List of vegans
Fruitarianism
Fruitarianism involves the practice of following a diet that includes fruits, vegetables, nuts and seeds, without animal products and grains. [ 1 ] Fruitarianism is a subset of dietary veganism . Fruitarianism may be adopted for different reasons, including: ethical , religious , political, environmental , cultural, aesthetic and economic . There are many varieties of the diet.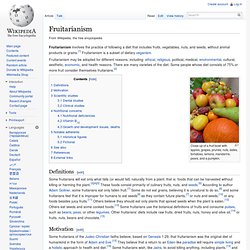 Lacto
A lacto vegetarian (sometimes referred to as a lactarian ; from the Latin lactis , milk ) diet is a vegetarian diet that includes dairy products such as milk , cheese , yogurt , butter , ghee , cream , and kefir , but excludes eggs . Lacto-vegetarians also abstain from cheeses that include animal rennet and yogurts that contain gelatin . The concept and practice of lacto-vegetarianism among a significant number of people comes from ancient India [ 1 ] and was originally based on religious beliefs. [ 2 ] The greatest proportion of vegetarians, such as those in India or those in the area of the classical Mediterranean such as the Pythagoreans , are or were lacto-vegetarian. [ 2 ] [ edit ] Religion Lacto-vegetarian diets are popular with many followers of the Eastern religious traditions such as Hinduism , Sikhism , Jainism and Buddhism .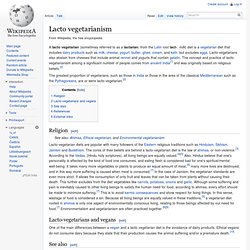 Pesco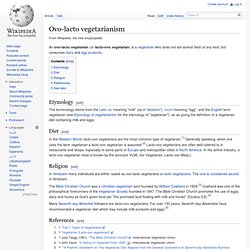 Ovo-lacto
An ovo-lacto vegetarian (or lacto-ovo vegetarian ) is a vegetarian who does not eat animal flesh of any kind, but consumes dairy and egg products . [ edit ] Etymology The terminology stems from the Latin lac meaning "milk" (as in ' lactation '), ovum meaning "egg", and the English term vegetarian (see Etymology of vegetarianism for the etymology of "vegetarian"), so as giving the definition of a vegetarian diet containing milk and eggs.
Ovo
Ovo vegetarianism ( pron.: / ˈ oʊ v oʊ / ) is a type of vegetarianism which allows for the consumption of eggs ; unlike lacto-ovo vegetarianism , no dairy products are permitted. Those who practice ovo vegetarianism are called ovo-vegetarians or "eggetarians." "Ovo" comes from the Latin word for egg. [ edit ] Motivations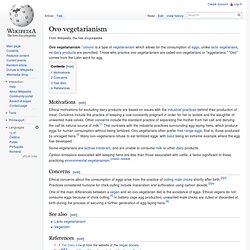 Vegans
Vegetarianism is the practice of abstaining from the consumption of meat – red meat , poultry , seafood and the flesh of any other animal ; it may also include abstention from by-products of animal slaughter , such as animal-derived rennet and gelatin . [ 2 ] [ 3 ] [ 5 ] Vegetarianism can be adopted for different reasons. Many object to eating meat out of respect for sentient life. Such ethical motivations have been codified under various religious beliefs , along with the concept of animal rights . Other motivations for vegetarianism are health-related, political, environmental , cultural, aesthetic or economic .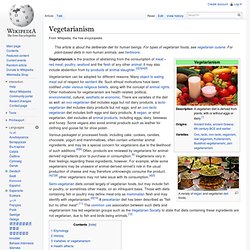 Vegetarianism