Healthcare Deathcare
Hotmail - amadmanmarasco - Windows Live
BP hit by fresh woe over Gulf of Mexico oil spill claims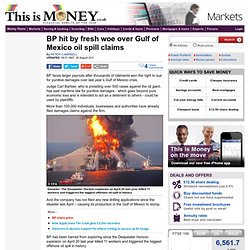 By Peter CampbellUPDATED: 08:51 GMT, 29 August 2011 BP faces larger payouts after thousands of claimants won the right to sue for punitive damages over last year's Gulf of Mexico crisis. Judge Carl Barbier, who is presiding over 500 cases against the oil giant, has said maritime law for punitive damages - which goes beyond pure economic loss and is intended to act as a deterrent to others - could be used by plaintiffs.
CODY LUNDIN: outdoor survival,  primitive living skills, and urban preparedness courses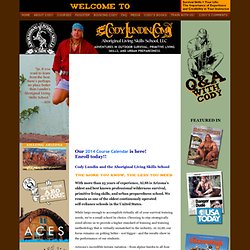 Our 2014 Course Calendar is here! Enroll today!! Cody Lundin and the Aboriginal Living Skills School
Enter the Cart Code 'BCblenderPROMO' for $50 discount in Checkout on your BioChef Blender! The Bio Chef Blender is the newest and most advanced high powered blender that continues to surpass blender standards globally. At a substantially lower price point than like-for-like blenders on the market, the BioChef Blender is delivering unbelievable value for money for our customers across the world. The Bio Chef Blender brings to you unparalleled quality in one affordable machine. With a high powered motor, uniquely designed blades, super tough jug and easy to use controls, the BioChef will quickly replace majority of your current kitchen appliances and become your all-in-one kitchen machine.
Power Mill Blender | Healthy Raw Food Blenders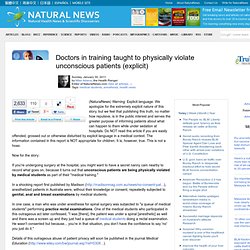 (NaturalNews) Warning: Explicit language. We apologize for the extremely explicit nature of this story, but we feel that publishing this truth, no matter how repulsive, is in the public interest and serves the greater purpose of informing patients about what can happen to them while under sedation at hospitals. Do NOT read this article if you are easily offended, grossed out or otherwise disturbed by explicit language in a medical context. The information contained in this report is NOT appropriate for children. It is, however, true.
Doctors in training taught to physically violate unconscious patients (explicit)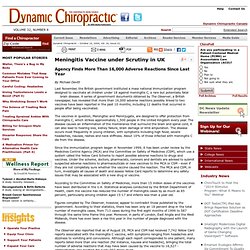 Agency Finds More Than 16,000 Adverse Reactions Since Last Year By Michael Devitt Last November, the British government instituted a mass national immunization program designed to vaccinate all children under 18 against meningitis C, a rare but potentially fatal brain disease. A series of government documents obtained by The Observer, a British newspaper, has revealed that more than 16,000 adverse reactions possibly linked to two vaccines have been reported in the past 10 months, including 12 deaths that occurred in people after being vaccinated. The vaccines in question, Meningitec and Meninjugate, are designed to offer protection from meningitis C, which strikes approximately 1,500 people in the United Kingdom every year.
Meningitis Vaccine under Scrutiny in UK
Lock The Gate Alliance Inc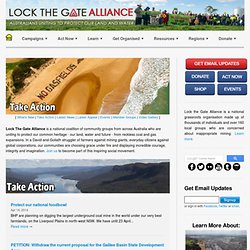 KongwakDeclaration Friday, April 25, 2014 at 01:30 PM Kongwak Hall Kongwak and District are declaring themselves Coal and Gasfield Free! Come along for a BBQ and to hear from Bass Coast Shire Mayor Clare Le Grice who will be accepting the declaration.
Health Deception / Dumbing down
Our Earth is who sustains us
Health Deception / Dumbing down
The Homeopathic Centre has the best natural health practitioners in Melbourne and also do online consultation. We strive to provide safe and natural healthcare for the whole family. We specialise in the treatment of acute and chronic ailments, utilising a unique style of Homeopathy, pioneered by Dr. Joseph von Moger over 50 years ago. Such fast, effective healthcare must be expensive? On the contrary, our rates are very reasonable and our treatment is also claimable through most private healthcare insurance funds.
Homeopathic Centre, Homeopathy, Homeopath, Melbourne, Natural Health Practitioners, Australia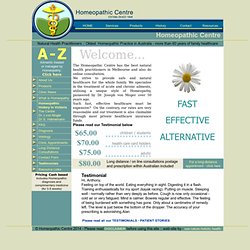 Drawing from nature, Massachusetts Institute of Technology professor Daniel Nocera thinks he can draw cheap and clean energy from water. At the National Meeting of the American Chemical Society, Nocera yesterday presented results from research on making an "artificial leaf" to split water to get hydrogen fuel and oxygen. The goal is to use the solar cell to make hydrogen, which would be stored and then used in a fuel cell to make electricity. "The artificial leaf shows particular promise as an inexpensive source of electricity for homes of the poor in developing countries. Our goal is to make each home its own power station," Nocera said in a statement. In 2009, Nocera and others created Sun Catalytix to commercialize his work on relatively cheap catalysts made from nickel and cobalt for a device called an electrolyzer that splits water into hydrogen and oxygen.
'Artificial leaf' makes hydrogen from solar cell | Green Tech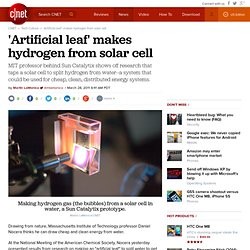 Health Deception / Dumbing down