Healthcare Deathcare
Hotmail - amadmanmarasco - Windows Live
BP hit by fresh woe over Gulf of Mexico oil spill claims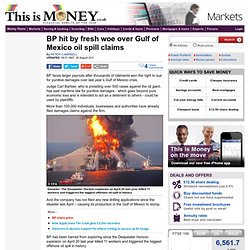 By Peter Campbell 08:51 GMT, 29 August 2011 BP faces larger payouts after thousands of claimants won the right to sue for punitive damages over last year's Gulf of Mexico crisis.
Power Mill Blender | Healthy Raw Food Blenders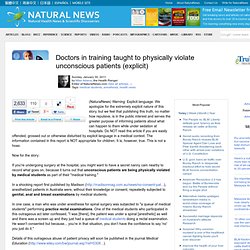 (NaturalNews) Warning: Explicit language. We apologize for the extremely explicit nature of this story, but we feel that publishing this truth, no matter how repulsive, is in the public interest and serves the greater purpose of informing patients about what can happen to them while under sedation at hospitals. Do NOT read this article if you are easily offended, grossed out or otherwise disturbed by explicit language in a medical context. The information contained in this report is NOT appropriate for children. It is, however, true.
Doctors in training taught to physically violate unconscious patients (explicit)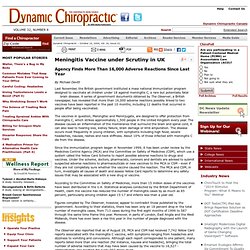 Agency Finds More Than 16,000 Adverse Reactions Since Last Year By Michael Devitt Last November, the British government instituted a mass national immunization program designed to vaccinate all children under 18 against meningitis C, a rare but potentially fatal brain disease. A series of government documents obtained by The Observer , a British newspaper, has revealed that more than 16,000 adverse reactions possibly linked to two vaccines have been reported in the past 10 months, including 12 deaths that occurred in people after being vaccinated. The vaccines in question, Meningitec and Meninjugate, are designed to offer protection from meningitis C, which strikes approximately 1,500 people in the United Kingdom every year.
Meningitis Vaccine under Scrutiny in UK
Lock The Gate Alliance Inc
Health Deception / Dumbing down
Our Earth is who sustains us
Health Deception / Dumbing down
Homeopathic Centre, Homeopathy, Homeopath, Melbourne, Natural Health Practitioners, Australia
Making hydrogen gas (the bubbles) from a solar cell in water, a Sun Catalytix prototype. (Credit: Martin LaMonica/CNET) Drawing from nature, Massachusetts Institute of Technology professor Daniel Nocera thinks he can draw cheap and clean energy from water.
'Artificial leaf' makes hydrogen from solar cell | Green Tech
Health Deception / Dumbing down