Fonts embeding
Although CSS3 @font-face is supported by most major browsers (IE, Firefox, Chrome, and Safari), but not all. When it doesn't, your custom fonts might break the layout or come out with undesired results. In this article, I will explain the common issues with using custom fonts, picking the matching fallback web safe fonts, and how to create a perfect fallback font style with Modernizr.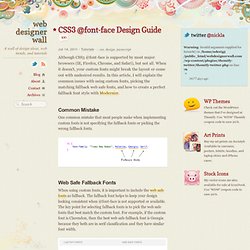 CSS Cross Browser Fonts using CSS3 @font-face
For years, web designers and bloggers have been limited to a select number of "web-safe" fonts.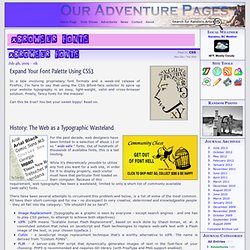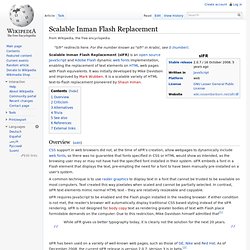 Scalable Inman Flash Replacement (sIFR) is an open source JavaScript and Adobe Flash dynamic web fonts implementation, enabling the replacement of text elements on HTML web pages with Flash equivalents. It was initially developed by Mike Davidson and improved by Mark Wubben. It is a scalable variety of HTML text-to-flash replacement pioneered by Shaun Inman.
Scalable Inman Flash Replacement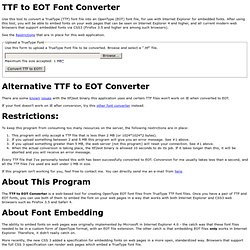 Use this tool to convert a TrueType (TTF) font file into an OpenType (EOT) font file, for use with Internet Explorer for embedded fonts.
→While the mobile browser usage share is only at a total of 11.78% this is a rapidly expanding segment of the browser market. The introduction of iOS 5 on October 12th, 2011 marked a major turning point for WOFF on mobile devices. As expected the introduction of iOS 5.1 catapulted WOFF support on mobile devices from a meager 0.35% to 24.15% in just two months time. The impact of Safari Mobile is mainly due to the Apple's massive usage share. Updates (Sept. 9, 2012): Usage share of all browsers →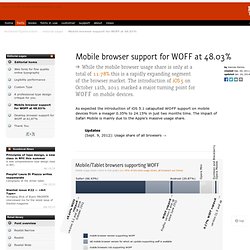 ☙ Mobile browser support for WOFF at 24.15 % | Editorial article on Kombinat-Typefounders ❧
→As of July 20, 2011 all major desktop browsers are now represented with a GA (General Availability) version offering WOFF support. This means all eyes are on the mobile browser market now. It is worth mentioning though that specs for the WOFF format have not even been finalized yet. The WOFF specification was published as Candidate Recommendation on August 4, 2011. Updates (September 9, 2012): Usage share of all browser by Hannes Famira created Aug. 15, 2010 updated Sep. 15, 2012
☙ Desktop browser support for WOFF at 57,11 % | Editorial article on Kombinat-Typefounders ❧
The Art Of Font Embedding - scriptflipper.com
Web Fonts
Google Web Fonts API 增加"text="参数节约请求量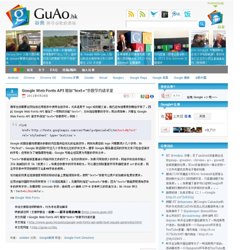 首页 > Google新闻 > Google Web Fonts API 增加"text="参数节约请求量 通常当您需要在网站或应用程序中使用在线字体,尤其是用于 logo 或标题之前,就已经知道要用到哪些字母了。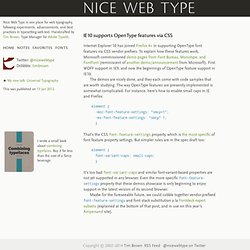 Internet Explorer 10 has joined Firefox 4+ in supporting OpenType font features via CSS vendor prefixes. To explain how these features work, Microsoft commissioned demo pages from Font Bureau, Monotype, and FontFont (reminiscent of another demo/announcement from Microsoft).
Nice Web Type – IE10 supports OpenType features via CSS
CSS @ Ten: The Next Big Thing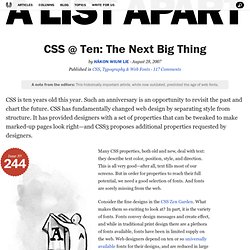 CSS is ten years old this year. Such an anniversary is an opportunity to revisit the past and chart the future. CSS has fundamentally changed web design by separating style from structure. It has provided designers with a set of properties that can be tweaked to make marked-up pages look right—and CSS3 proposes additional properties requested by designers. Issue № 244 Many CSS properties, both old and new, deal with text: they describe text color, position, style, and direction.
Wednesday, March 31st, 2010
CSS3 Transforms & @font-face Experiment | neography
CSS3 Fonts