psychology/ beauty
Get flash to fully experience Pearltrees
Last month I did a makeover story with Kelsie and had many requests for a maiden braid tutorial. Yesterday she came in and we photographed these simple step by steps. Kelsie has extremely long and thick hair, but anyone with shoulder length or longer can do these braids (see my photo below for an example). Steps 1-2: Braid two strands on each side of a center part. Steps 3-5: Wrap braids around the crown of your head and pin in place with one pin each. Step 6: Arrange braids so that they cover the front of your head like a headband.
Vitamin HB | My Favorite New Coffee Scrub!!! Sun, 13 Nov 2011 DAILY DOSE | BODY By Huda Heidi Kattan I know I loooove coffee scrubs (remember my HudaBeauty party with the little coffee scrub giveaways ), but this one kind of takes the cake when it comes to pure awesomeness!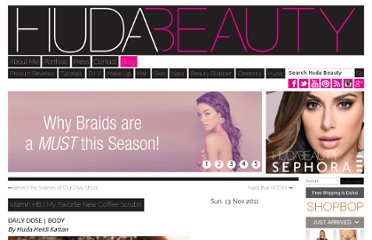 "By reprocessing previous emotional experiences ... during REM sleep, we wake up the next day and those experiences have been softened in their emotional strength. We feel better about them, we feel we can cope," he added. Researchers from the University of California, Berkeley, monitored the brain activity of 34 volunteers with MRI scanners while they were shown a series of 150 images designed to provoke an emotional response. The test was carried out twice with a 12 hour period in between – but while half the participants saw the images in the morning and again that evening, the other half started in the evening and had a full night's sleep before their second viewing.
We spend countless hours and dollars to doll ourselves up, but Mother Nature has given us women an au natural way to turn heads: S-E-X. Sure, there's a time and a place for perfectly applied eyeliner and not-a-strand-out-of-place hair. But really, what's hotter than devil-may-care, mussed up bedhead and a swagger that just won't quit? It's time to channel your inner Brigitte Bardot , ladies!