Love
25 Fun Summer Date Ideas - Sexual Health
Rest of my life
Socrates Teaches Plato about Love and Marriage
20 Creative Gift Ideas
Love Letters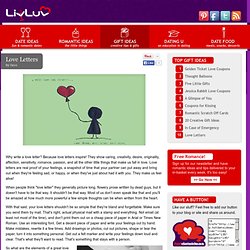 Why write a love letter? Because love letters inspire! They show caring, creativity, desire, originality, affection, sensitivity, romance, passion, and all the other little things that make us fall in love. Love letters are real proof of your feelings, a snapshot of time that your partner can put away and bring out when they're feeling sad, or happy, or when they've just about had it with you.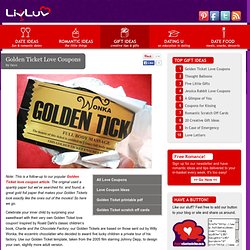 Note: though readers love this template, we've always wanted to find a more authentic-looking foil paper for the golden tickets. And now we've done it! See our new Goldent Ticket Love Coupons article to make your tickets looks just like the ones from the movie!
Golden Ticket Love Coupons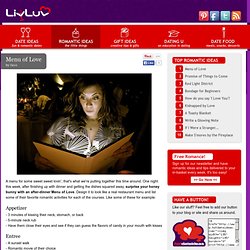 A menu for some sweet sweet lovin', that's what we're putting together this time around. One night this week, after finishing up with dinner and getting the dishes squared away, surprise your honey bunny with an after-dinner Menu of Love. Design it to look like a real restaurant menu and list some of their favorite romantic activities for each of the courses. Like some of these for example:
Menu of Love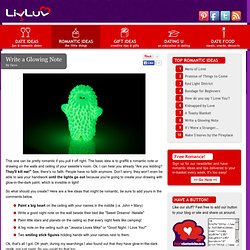 This one can be pretty romantic if you pull it off right. The basic idea is to graffiti a romantic note or drawing on the walls and ceiling of your sweetie's room. Ok, I can hear you already "Are you kidding? They'll kill me!" See, there's no faith.
Write a Glowing Note
"I Love You!" So easy to say but powerful enough to change the course of our lives. Why not remind your partner how you feel by spelling it out for them in a different way each day this week? Email it, draw it on a steamy mirror or front yard walkway, or send your feelings via regular old mail.
How do you say 'I Love You'?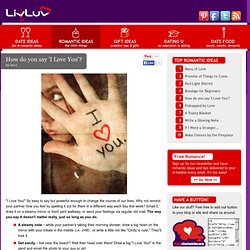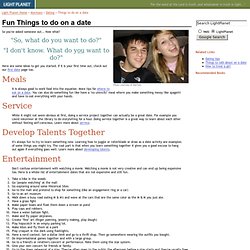 Things to do on a date
So you've asked someone out... Now what? "I don't know.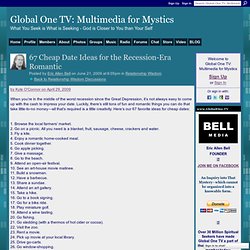 by Kyle O'Connor on April 29, 2009 When you're in the middle of the worst recession since the Great Depression, it's not always easy to come up with the cash to impress your date. Luckily, there's still tons of fun and romantic things you can do that take little-to-no money—all that's required is a little creativity.