Inventions
Some brilliant inventions. 20 Awesome Products And Design Ideas. 17 Unusual Ice Cube Trays. Modern ice trays come in all shapes and sizes.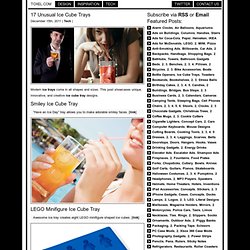 This post showcases unique, innovative, and creative ice cube tray designs. Smiley Ice Cube Tray. 34 Cleverly Designed Inventions. Futuristic Transparent Cellphones. Twice-the-ink. Bento Laptop. Bento Box Kinda Like Voltron Bento is quite an exceptional and forward thinking concept by René Woo-Ram Lee.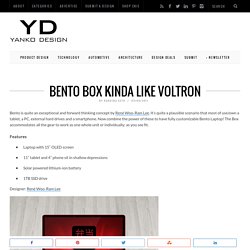 It's quite a plausible scenario that most of use/own a tablet, a PC, external hard drives and a smartphone. Now combine the power of these to have fully customizable Bento Laptop! The Box accommodates all the gear to work as one whole unit or individually; as you see fit.Features Laptop with 15″ OLED screen11″ tablet and 4″ phone sit in shallow depressionsSolar powered lithium-ion battery1TB SSD drive. 15 bizarre green inventions. Simple Ideas That Are Borderline Genius (35 Pics) Simple Ideas That Are Borderline Genius (55 Pics)
Clock.
---