Fails
Pinata Fail. Website Names. Drunk Text. Food Stealers. Water is dangerous. This was found on the newsgroup: rec.humor.funny A student at Eagle Rock Junior High won first prize at the Greater Idaho Falls Science Fair, April 26.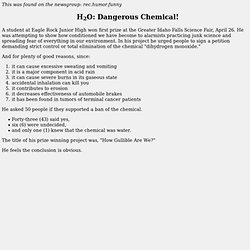 He was attempting to show how conditioned we have become to alarmists practicing junk science and spreading fear of everything in our environment. In his project he urged people to sign a petition demanding strict control or total elimination of the chemical "dihydrogen monoxide. " And for plenty of good reasons, since: 25 Epic Fail GIFs. Thanks to CompuServe and their animated Graphics Interchange Format (GIF), watching fails has never been more satisfying, or educational.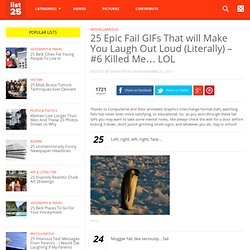 So, as you skim through these fail GIFS you may want to take some mental notes, like always check the wall for a door before kicking it down, don't punch grinning street signs, and whatever you do, stay in school! About David Pegg After helping found the United Nations, the United States, and United Airlines, David consigned himself to a transient life of writing lists and sleeping on park benches. 2010 Darwin Awards. Eighth Place In Detroit, a 41-year-old man got stuck and drowned in two feet of water after squeezing head first through an 18-inch-wide sewer grate to retrieve his car keys.
Seventh Place.
---