Work
GoodUI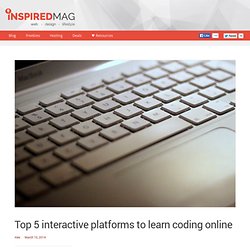 If you're new on INSPIRED [the web design lifestyle mag], you may want to subscribe to our RSS feed & Newsletter for extra goodies. Thanks for visiting! This is a guest post written by Alex Ivanovs of CodeCondo. He loves to write about business, productivity and web development.
Top 5 interactive platforms to learn coding online
Employers of Reddit: During an interview, when you ask "Have you any questions?", what are the questions we should be asking? [Serious] : AskReddit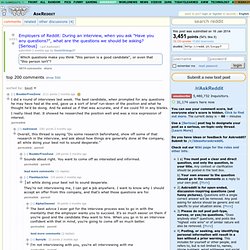 You can see your comment score, but everyone else's score is hidden. Click to find out more. The current delay is -- 60 -- minutes
Restyle Your Resume For Instant Results On The Job Market
Your resume isn't unique. It isn't cool. It isn't going to make your future employer throw all of the other resumes out his office window, stand up on his desk, and scream to his secretary, "PEGGY, WE ARE NO LONGER HIRING!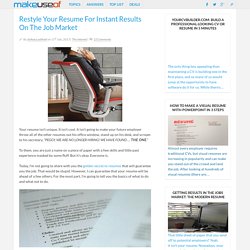 Top 10 Tips for Acing Your Next Job Interview
The #1 suggestion to find out why is bogus. You will never find out the reason. Corporations are trained to never give out anything but the vaguest reason that they found someone more suited. And they do not owe you a reason.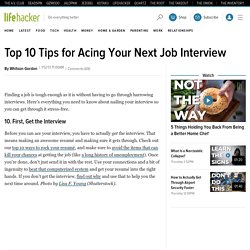 7 Ways to Ace Your Next Performance Review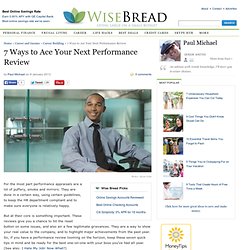 Wise Bread Picks For the most part performance appraisals are a lot of puffery, smoke and mirrors. They are done in a certain way, using certain guidelines, to keep the HR department compliant and to make sure everyone is relatively happy. But at their core is something important. These reviews give you a chance to hit the reset button on some issues, and also air a few legitimate grievances.
7 najgorszych pytań na rozmowie kwalifikacyjnej i najlepsze odpowiedzi | Careego miejsce pracy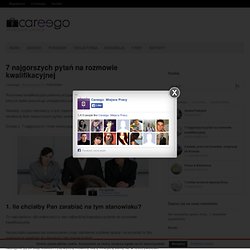 Rozmowa kwalifikacyjna powinna przypominać negocjacje sprzedażowe dwóch partnerów, z których jeden poszukuje umiejętności a drugi je posiada. Niestety, często rekruterzy o tym zapominają i traktują swoją pracę jak etat w fabryce: zadać określoną ilość klasycznych pytań, ocenić i odrzucić bądź przyjąć. Dzisiaj o 7 najgorszych i mało wnoszących pytaniach na rozmowie kwalifikacyjnej.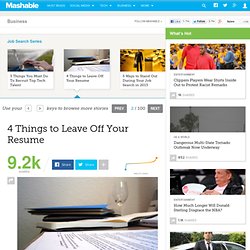 4 Things to Leave Off Your Resume
Brie Weiler Reynolds is the content and social-media manager at FlexJobs, the award-winning site for telecommuting and flexible job listings, and a former career advisor. At FlexJobs, Reynolds offers job seekers career and work-life balance advice through the FlexJobs blog and social media. One area of job searching that confounds plenty of job seekers is what to include on a resume.
How to Tell Your Boss When You Need Something Out of the Ordinary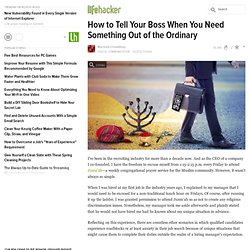 In my younger years there were many a job I ended up refusing (as badly as I needed them) because they required me to work Sunday mornings and I had church then which I did not want to give up. Using your method, I would have lied and taken the job and then used religious discrimination as an excuse to get out of one of the reasons they hired me. This has got to be one of the worst posts I have ever read on Lifehacker. It doesn't even tell you how to tell your boss when you need something out of the ordinary except by deception and hiding behind laws or rights that are taken out of context and not even being used in their true spirit. That's exacly waht laws for religious protection are.
Is it just me or are these kind of questions just lazy and inefficient? Let me explain: "Tell me about your work history" You have it in front of you. Why not ask something specific about one of the jobs instead of asking a really broad question?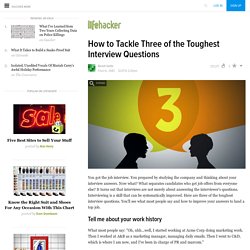 How to Tackle Three of the Toughest Interview Questions
10 Easy-to-Fix Cover Letter Mistakes
Wise Bread Picks I have yet to meet a job hunter who doesn't dread writing cover letters. They're time-consuming and tedious, and unfortunately, they're unavoidable. It's easy to break cover letter etiquette if you're not careful. Those errors can cost you the job, so check out some common mistakes to be sure you're playing by the most important rules. RELATED: The Best Job Hunting Tips of the Year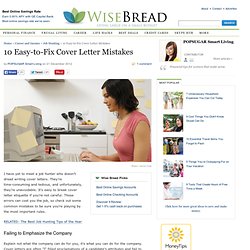 How To Clean An Old Flask
I had a phone interview this summer which lead to a great job offer. Aside from the points you mentioned above, it helped to have so much control over the interview environment. I had all of my notes out, took notes about questions, answers and the interviewers (their names, what positions they held in the organization, etc) and a copy of the job announcement so I could refer back to specific things they were looking for.
Got a Phone Interview? Make it Awesome, Not Awkward
Chcesz się przygotować do rozmowy kwalifikacyjnej? There is an app for that!
Wielu z nas na pewno odbyło i możliwe, że jeszcze odbędzie rozmowy kwalifikacyjne. Największym wyzwaniem jakie zazwyczaj stoi przed osobą rekrutowaną jest przygotowanie się do takiego spotkania. Problem polega na tym, że nigdy do końca nie jesteśmy pewni czego się spodziewać i o co będą nas pytać. Całemu wydarzeniu towarzyszy stres w końcu staramy się o lepszą, ciekawszą i lepiej płatną pracę. Prawda? Co ciekawe, portali rekrutujących i samych narzędzi ułatwiających rekrutację na rynku jest wiele, a brak na nim narzędzi dla osób rekrutowanych.
Wise Bread Picks Back in the day I used to work as a "headhunter" for companies on a national basis. It certainly was an eye-opener to discover what people will or won't say when it comes to the hunt for a good job. It always surprised me that so-called professional people seeking six-figure incomes kept making the same juvenile mistakes over and over when looking for a new job. Personally, I always felt if these people were writing "great written communication skills" on a resume where their names were misspelled, they were not fit to be called upon for vacancies.
6 Dumb Things Employment Recruiters See People Do
Answer the "Where Do You See Yourself in Five Years" Question with Specific Details
What's Expected of Me on the First Day of a New Job?
Courses
Avoid "I" Statements When Negotiating a New Salary
How to Stand Out in an Interview
Zdobądź certyfikat Stanford University, Colombia University i innych za darmo przez Internet
5 questions to ask your next boss - Ask Annie
Create Resume Templates to Save Time, Avoid Sending Out the Same Resume
Turn Work Experiences into Measurable Achievements on Your Resume
The Hardest Job Interview Questions—And How to Ace Them
Jak stworzyć kreatywne CV? Mamy na to 5 sprawdzonych sposobów
Why You Didn't Get the Job
Getting Over Resume Hate
Strona 2 - Papilot.pl - CV: Co śmieszy rekruterów?
How Recruiters See Your Resume
Ask These Questions at Your Next Job Interview to Leave a Lasting Impression
6 Crucial Job Searching Steps Most People Skip
Avoid a "Me" Resume and Decrease Your Odds of Being Ignored by Yet Another Employer
Avoid These Negative Body Language Cues When Going on a Job Interview
10 Body Language Mistakes That Sabotage Most Interviews
12 Unique Ways to Score a Job Interview
Pepper Your Resume with a Company's Cultural Keywords to Help Beat the Screeners
Learn the Motives Behind Job Interview Questions and Better Tailor Your Responses
Impress the Future Boss: 9 Interview Mistakes to Avoid
Don't Say You're "Experienced" on Your Resume (and Other Words to Banish)
praca w Entellico Sp. z o.o. - ofert pracy - 248634 - Poznań infoPraca.pl
Stażysta/ Stażystka w dziale Analitycznym, Poznań - 3416124
Summer Traineeship Program
can we compile a list of tips for creating a Resume / CV and Cover Letter? : AskReddit
SOMFI
Praca Młodszy Analityk w Dziale Transferowym, Poznań, wielkopolskie - archiwalna oferta pracy