Science Articles
In. Protein that destroys HIV discovered. Loyola University researchers have identified the key components of a protein called TRIM5a that destroys HIV in rhesus monkeys.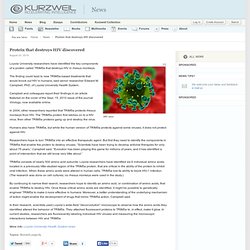 The finding could lead to new TRIM5a-based treatments that would knock out HIV in humans, said senior researcher Edward M. Campbell, PhD, of Loyola University Health System. Campbell and colleagues report their findings in an article featured on the cover of the Sept. 15, 2010 issue of the journal Virology, now available online. In 2004, other researchers reported that TRIM5a protects rhesus monkeys from HIV. The TRIM5a protein first latches on to a HIV virus, then other TRIM5a proteins gang up and destroy the virus. NASA Radar Finds Ice Deposits at Moon's North Pole.
NASA Radar Finds Ice Deposits at Moon's North Pole Additional evidence of water activity on moon View a Larger version of the CPR Map of the North Pole of the Moon (1.4MB).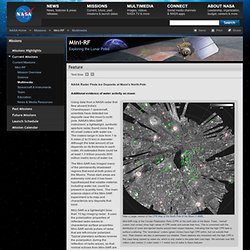 Mini-SAR map of the Circular Polarization Ratio (CPR) of the north pole of the Moon. 'Artificial life' breakthrough announced by scientists. 20 May 2010Last updated at 23:51 By Victoria Gill Science reporter, BBC News The synthetic cell looks identical to the 'wild type' Scientists in the US have succeeded in developing the first living cell to be controlled entirely by synthetic DNA.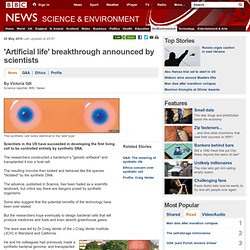 Scratched glasses give perfect vision for any eyesight - tech - 04 October 2010. DITCH those bifocals.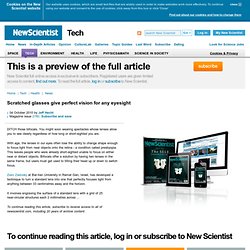 You might soon wearing spectacles whose lenses allow you to see clearly regardless of how long or short-sighted you are. With age, the lenses in our eyes often lose the ability to change shape enough to focus light from near objects onto the retina - a condition called presbyopia. This leaves people who were already short-sighted unable to focus on either near or distant objects. Bifocals offer a solution by having two lenses in the same frame, but users must get used to tilting their head up or down to switch focus. Autism - Once more, no link found between vaccine preservative and autism. Maybe Study Number Ten will suffice to reassure the one in four parents who have come to fear vaccinating their babies that doing so will not raise the likelihood of the kids' developing autism.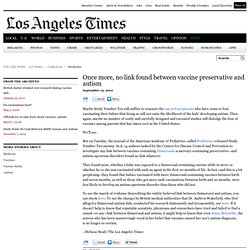 Then again, maybe no number of costly and carefully designed and executed studies will dislodge the fear of vaccines among parents that has taken root in the United States. We'll see. But on Tuesday, the journal of the American Academy of Pediatrics--called Pediatrics--released Study Number Ten anyway. Cell Phone Holdouts Are Right: Buy a Phone, Become a Baby by Lenore Skenazy on Creators. Whoopee for the iPhone, the latest version of the device that has made us a nation of blabbing babies: the cell.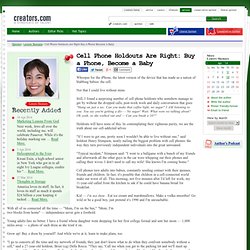 Not that I could live without mine. Still, I found a surprising number of cell phone holdouts who somehow manage to get by without the dropped calls, post-work work and daily conversation that goes: "Hang on just a sec. Can you make that coffee light, no sugar? I AM listening to you. Alphabet Energy has plans to turn wasted energy into electricity - Tucson Technology. Alphabet Energy has plans to convert wasted heat given off by mechanical and electrical sources into electricity using a technology developed at the Lawrence Berkeley National Laboratory.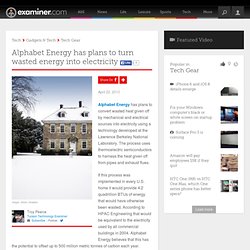 The process uses thermoelectric semiconductors to harness the heat given off from pipes and exhaust flues. If this process was implemented in every U.S. home it would provide 4.2 quadrillion BTUs of energy that would have otherwise been wasted.
---