Books
William Ford Gibson (born March 17, 1948) is an American-Canadian speculative fiction novelist who has been called the "noir prophet" of the cyberpunk subgenre. [ 17 ] Gibson coined the term " cyberspace " in his short story " Burning Chrome " (1982) and later popularized the concept in his debut novel , Neuromancer (1984). In envisaging cyberspace, Gibson created an iconography for the information age before the ubiquity of the Internet in the 1990s. [ 18 ] He is also credited with predicting the rise of reality television and with establishing the conceptual foundations for the rapid growth of virtual environments such as video games and the World Wide Web . Having changed residence frequently with his family as a child, Gibson became a shy, ungainly teenager who often read science fiction.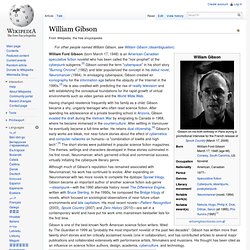 The Fault in Our Stars: Amazon.co.uk: John Green
The Crying Of Lot 49: Amazon.co.uk: Thomas Pynchon
The Better Angels of Our Nature: The Decline of Violence In History And Its Causes: Amazon.co.uk: Steven Pinker
Good news, folks. Violence has been declining. We are getting kinder and gentler as a species.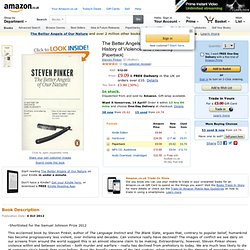 The Blank Slate: The Modern Denial of Human Nature Penguin Press Science: Amazon.co.uk: Steven Pinker
Brud - Woźniak Olga za 27,49 zł
LOOKING FOR ALASKA: Amazon.co.uk: John Green
Zygmunt zagórski Nazewnictwo geograficzne POzNANIA - opis, informacje, dane techniczne produktu
Bad Science: Amazon.co.uk: Ben Goldacre
Psychiatric Tales: Amazon.co.uk: Darryl Cunningham
The Giver (21st Century Reference): Amazon.co.uk: Lois Lowry
Anarchy, State and Utopia: Amazon.co.uk: Robert Nozick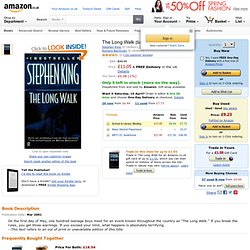 Originally published as one of the "Bachman Books" The long walk centres around a young man named Ray Garraty who decides to enter a competition called the Long Walk, whereby one hundred competitors literarally walk until they drop, with anyone who drops below four miles per hour being brutally dispatched by a group of heartless soldiers until only one is left. Why compete? Because of the ultimate prize - anything he desires. The book charts his mental decline as he walks hundreds of miles, gradually becoming attatched to some of his fellow walkers, all the while knowing that if he lives, they cannot. Similar in theme to "the Running Man", another book originally released in this compendium, this is King (or Bachman) at his best, with the tale mixing "Stand By Me" style themes of friendship amongst adversity with scenes of total horror.
The Long Walk: Amazon.co.uk: Stephen King
Fahrenheit 451 (Flamingo Modern Classics): Amazon.co.uk: Ray Bradbury
Jedwabny szlak. Otoczony nimbem tajemniczości, budzący baśniowe skojarzenia, przecinający miasta, których nazwy przywołują w pamięci historie z Księgi tysiąca i jednej nocy. Szlak kupców, podróżników i poszukiwaczy przygód, lecz również miejsce spotkań i wymiany myśli filozofów, mistyków, świętych mężów. Droga, którą na zachód podążały jedwab, żelazo i papier, w przeciwnym kierunku - złoto, perfumy i żywność, a w obydwie strony - idee, opowieści i legendy. "Tysiąc szklanek herbaty" to w gruncie rzeczy nie jest książka o jedwabnym szlaku, lecz raczej o ludziach, którzy nim podążają, i o ludziach, którzy żyją na jego trasie.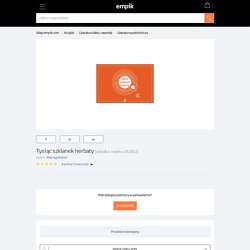 Tysiąc szklanek herbaty. Spotkania na Jedwabnym Szlaku - Maciąg Robb za 35
The Art of Watching Films with Tutorial CD-ROM (9780073310282): Joe Boggs, Dennis Petrie
World War Z: Amazon.co.uk: Max Brooks
The Pre-Raphaelites: Their Lives and Works in 500 Images: An Illustrated Exploration of the Artists, Their Lives and Contexts, with a Gallery of 290 of Their Greatest Paintings: Amazon.co.uk: Michael Robinson
I have not read the book yet and am looking forward to reading it. I would however like to point out that the publication date has been put back so many times that it has possibly been rushed through the printing process or put together by people who don't known the true colours of the artworks or cared. This is the second book I have recently seen with what appears to be back to front pictures. Edward Burne-Jones "The Doom Forfilled " is I believe the wrong way round; Andromeda is to the right.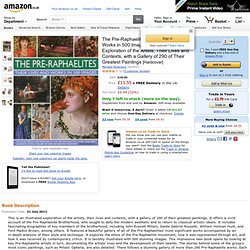 Wonderful Future That Never Was, The Popular Mechanics Magazine: Amazon.co.uk: Gregory Benford and the Editors of Popular Mechanics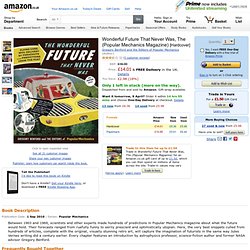 A sumptuously produced book (though the idea of having a dust cover which turns into a poster does not really work), Gregory Benford's book is a collection of some of the best, worst and strangest predictions for future technology published over the years in the pages of the American magazine Popular Mechanics. A few wider themes come out from the collection, including the move during the twentieth century from concern over there not being enough food to concern over people eating too much, and the way in which predictions about improvements in flying technology have consistently oversold its potential. Issues of safety, practicality, noise and cost mean we still do not have the sort of personal flying machines that often come up in a myriad of forms from personal helicopters in each garage through to jet packs and anti-gravitational devices.
Atlas Shrugged: Amazon.co.uk: Ayn Rand
The Flavor Bible: The Essential Guide to Culinary Creativity, Based on the Wisdom of America's Most Imaginative Chefs: Amazon.co.uk: Karen Page, Andrew Dornenburg
The Interpretation of Dreams Wordsworth Classics of World Literature: Amazon.co.uk: Sigmund Freud
Guns, Germs and Steel: Amazon.co.uk: J Diamond
Gnomes Deluxe Collector's Edition (9780810998469): Wil Huygen, Rien Poortvliet, Brian Froud
It is a brilliant book. I bought it when I was pregnant and read it all. I had so many questions regarding pregnancy, delivery and baby care and this book was of an incredible help and use for me.
Dr. Spock's Baby and Childcare: Amazon.co.uk: Benjamin Spock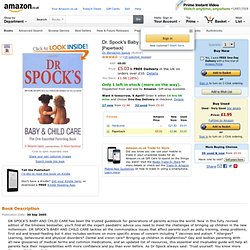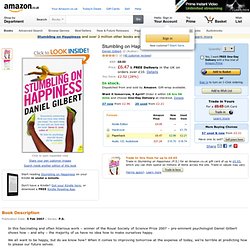 Stumbling on Happiness: Amazon.co.uk: Daniel Gilbert
'"Stumbling on Happiness" is an absolutely fantastic book that will shatter your most deeply held convictions about how your own mind works. Ceaselessly entertaining, Gilbert is the perfect guide to some of the most interesting psychological research ever performed. Think you know what makes you happy?
The Male Brain: Amazon.co.uk: Louann Brizendine MD
The Female Brain: Amazon.co.uk: Louann Brizendine MD
The Call of the Weird: Travels in American Subcultures: Amazon.co.uk: Louis Theroux
The Orchid Thief: A True Story of Beauty and Obsession: Amazon.co.uk: Susan Orlean
Awaken the Giant within: How to Take Immediate Control of Your Mental, Emotional, Physical and Financial Life: Amazon.co.uk: Anthony Robbins