ARTISTS
Home Page | Sublime Stitching. JENNY HART. Prev / next 1 of 16 thumbnails Blue Dolly (Dolly Parton) - 2003, hand embroidery on cotton.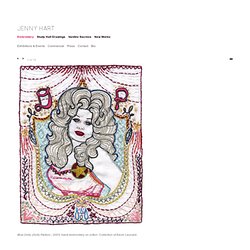 Collection of Kevin Leonard. Iggy Pop - 2004, hand embroidery and sequins on cotton. Arkansas Arts Center Foundation Collection. Lauren DiCioccio : Objects. BELLWETHER Gallery - Kirsten Hassenfeld. Gallery Artists Dans La Lune, Rice Gallery, Rice University, Houston, TX "Objects of Virtue," Bellwether, New York, NY Hudson D.
Walker Gallery, Provincetown, MA. Cecilia Levy.
Artist google search results
Interviews.
---