Portafolios
KHOMATECH
Futurefarmers is a group of diverse practitioners aligned through an interest in making work that is relevant to the time and place surrounding us. Founded in 1995, the design studio serves as a platform to support art projects, an artist in residence program and our research interests. We are artists, researchers, designers, architects, scientists and farmers with a common interest in creating frameworks for exchange that catalyze moments of "not knowing". While we collaborate with scientists and are interested in scientific inquiry, we want to ask questions more openly. Through participatory projects, we create spaces and experiences where the logic of a situation disappears - encounters occur that broaden, rather than narrow perspectives, i.e. reductionist science. We use various media to create work that has the potential to destabilize logics of "certainty".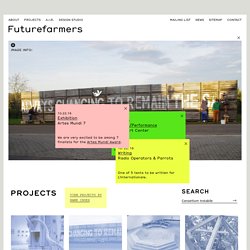 We were founded in 2010 . We work out of 2 offices. We just love building Website & Web application. Who are we ? Justalab is a small Web design & development studio based in Paris & San Diego.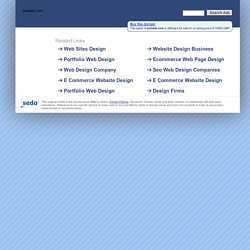 Justalab | Webdesign & Webdevelopement Studio
FORK UNSTABLE MEDIA | FLVCTVAT NEC MERGITVR
Paul Lee Design
Distant Station Ltd.
» 15 Ridiculously Good Graphic Design Portfolios (Plus 1 Bonus)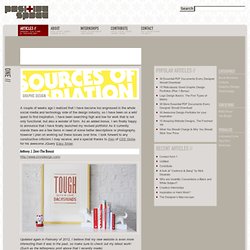 A couple of weeks ago I realized that I have become too engrossed in the whole social media and technology side of the design industry, so I have been on a wild quest to find inspiration. I have been searching high and low for work that is not only functional, but also a wonder of form. As an added bonus, I am finally happy to announce that I have finally launched my revised portfolio!
Sumajestyle
It's voting time. Webby, steady, go! We're absolutely chuffing thrilled to announce that our tech study Flash vs HTML has been selected as a Nominee in the Best Practices category in The 18thAnnual Webby Awards. Flash vs HTML Picks up 2 Lovies! It's a great vindication of our internal R&D scheme to stand alongside such great creative work & brands New Challenges With new clients come new challenges and problems to solve.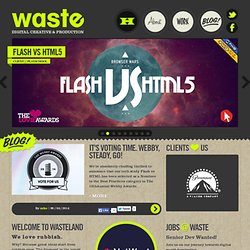 waste
John Martz Illustration
m&m's® CHRISTMAS SCENE | Carlos Ortega Elizalde
santhosh' portfolio: design,concept art,design,t shirt design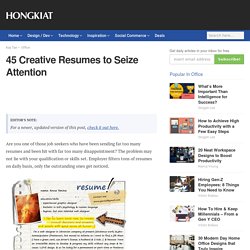 Are you one of those job seekers who have been sending far too many resumes and been hit with far too many disappointment? The problem may not lie with your qualification or skills set. Employer filters tons of resumes on daily basis, only the outstanding ones get noticed. A creative resume is fairly important. Not only it resembles your personality, it also speaks your capability and creativity. Putting more effort and thoughts into creating an impressive resume is definitely worthwhile, as it is usually the first thing any employer sees before flipping through your entire portfolio.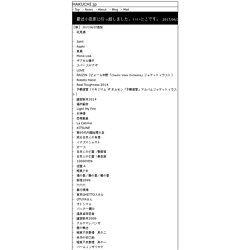 白痴ランド
HAKUCHI.jp - Top - News - About - Mail [新] 2014/02/03追加