Blogs
Portafolio Creativo
Tips, Tutorials and Resources for Creative Professionals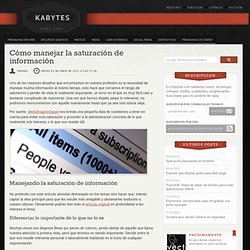 Cómo manejar la saturación de información
Uno de los mayores desafíos que encontramos en nuestra profesión es la necesidad de manejar mucha información al mismo tiempo, esto hace que corramos el riesgo de saturarnos y perder de vista lo realmente importante, un error en el que es muy fácil caer y bastante complicado de reponerse. Una vez que hemos dejado pasar lo relevante, no podremos reencontrarnos con aquello nuevamente hasta que ya sea una noticia vieja. Por suerte, WebDesignerDepot nos brinda una pequeña lista de cuestiones a tener en cuenta para evitar esta saturación y proceder a la administración concreta de lo que realmente nos interesa, o lo que nos resulte útil. No pretendo con este artículo ahondar demasiado en los temas sino hacer que, intento captar la idea principal para que les resulte más amigable y obviamente traducirlo a nuestro idioma. Obviamente podrán leer todo el artículo original en profundidad si les interesa el tema.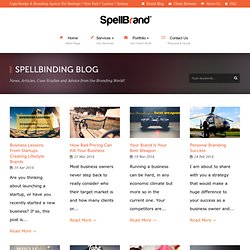 Anatomy of an online clothing store website Video Transcript: Today I wanted to do a very quick video on The Anatomy of An Online clothing Store. Recently we worked with a clothing fashion label client of ours, and we, of course, we created their brand strategy, brand identity, their website, e-commerce, online store and social media campaigns and all that.
Design Blog - Logo Design Works
Sección Áurea, blog de diseño gráfico y otras yerbas
Dorsumi – D-news – Dorsuminews
Estás en la página principal de la Designpedia, una enciclopedia wiki en red donde podrás encontrar la información más completa en internet del diseño español: diseñadores, proyectos, productos, escuelas de diseño, etc... ¿Qué es la Designpedia? La Designpedia es un proyecto para construir comunitariamente una enciclopedia libre sobre diseño, escrita de forma colaborativa por sus lectores. Es una iniciativa de la Fundación Signes, basándose en el concepto wiki, que permite crear colectivamente documentos web sin que sea necesaria la revisión del contenido antes de su aceptación para ser publicado en la red. La Designpedia arrancó el 1 de abril de 2009. Todo el texto de la Designpedia, y la mayorí­a de imágenes y otros contenidos, están cubiertos por la licencia Reconocimiento-CompartirIgual de Creative Commons.
Hola : Designpedia
How to Write a Wordpress Plugin
How to Write a WordPress Plugin, written by Ronald Huereca is an extensive, twelve entry series on the process of creating your own WordPress plugin. Every step is covered, from "Seven Steps for Writing a WordPress Plugin" all the way down to adding ajax to your plugin and releasing it. This is an excellent article series for anyone interested in the process behind creating your very first WordPress plugin. With code examples to help assist you, you will be on your way to future releases of your own plugins for the WordPress community.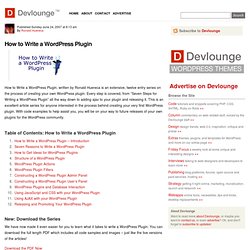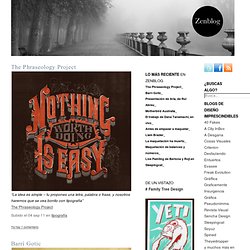 Antes de empezar a maquetar <!– Otra de las entradas rescatadas del antiguo Zenblog. Hartos de hacer propuestas sin tener el material, estuvimos pensando en crear un pequeño pdf que indicase a los clientes los pasos a seguir para encargar una maquetación, y el motivo por el que esos pasos eran importantes. De esa charla surgió esta entrada, que pretendía ser una guía tanto para diseñadores noveles como para clientes interesados en el proceso.
Zenblog
LeoBaraldi - Ejemplos Flash, Ejemplos actionscript, Tutoriales Flash, Tutoriales actionscript, actionscript 3, curso de actionscript
Shigeru Komatsuzaki's Sci-Fi Art | nUvegante
Masters of Design and Innovation
Web Arena