Blogs
Portafolio Creativo
¿Tienes problemas para encontrar mapas confiables? Actualmente se cuentan con diferentes herramientas disponibles para ubicar lugares, no sólo actuales sino también sitios que posiblemente ya no existen. Hoy les traemos una lista de sitios con mapas online de diferentes épocas, esperando que les sean de utilidad en proyectos escolares o en pasatiempos relacionados con la Historia. Leer el resto de la entrada »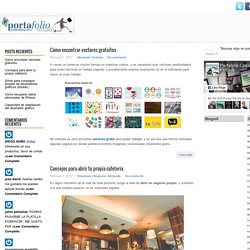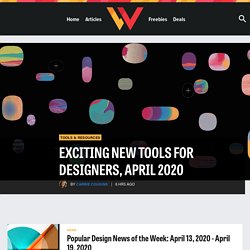 Every week we feature a set of comics created exclusively for WDD. The content revolves around web design, blogging and funny situations that we encounter in our daily lives as designers. These great cartoons are created by Jerry King, an award-winning cartoonist who's one of the most published, prolific and versatile cartoonists in the world today. So for a few moments,... Every week we feature a set of comics created exclusively for WDD.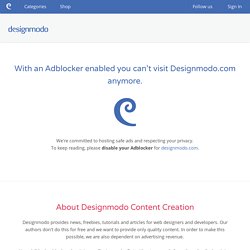 Tutorial: Make a Landing Page Using Generator Designmodo's Generator works with Startup Framework to create an easy drag and drop landing page for almost any website/startup. The two-part video tutorial shows you how easy it is to use Generator and the and share your design as you create in directly in the browser. The tool includes a variety of interchangeable blocks that can be mixed and matched to create a custom... (Re)Adopting the Design-in-Browser Approach
HTML5 Introduction – What is HTML5 Capable of, Features, and Resources After analyzing our new focus here at 1WD, which basically is teaching new, young, designers about web design and helping them improve their skills and to start in the business, we realized that we really need to go as deep as possible into the basics. And while we covered many of these already, two basic things are still missing from the website, and these two are in-depth introductions and discussions about HTML5 and CSS. Therefore it is one of my assignments for the next period to teach you about these two technologies and, after this, to create several tutorials for you.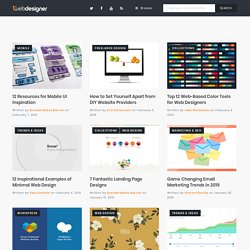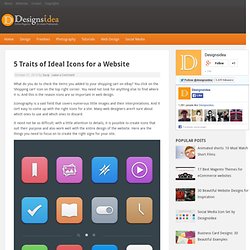 Tips, Tutorials and Resources for Creative Professionals
Web forms are the easiest way of collecting certain information from the users. Whether you want them to sign up for a service or product, whether you want them to buy something online, whether you want them to participate in a survey – through web forms you can let them know what all information they need to submit. Users can also enter their input in a systematic order, which becomes easy to store and process. However, it takes time to create web forms.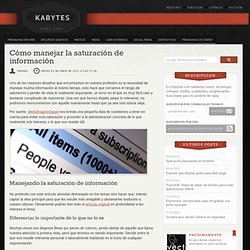 Cómo manejar la saturación de información
Uno de los mayores desafíos que encontramos en nuestra profesión es la necesidad de manejar mucha información al mismo tiempo, esto hace que corramos el riesgo de saturarnos y perder de vista lo realmente importante, un error en el que es muy fácil caer y bastante complicado de reponerse. Una vez que hemos dejado pasar lo relevante, no podremos reencontrarnos con aquello nuevamente hasta que ya sea una noticia vieja. Por suerte, WebDesignerDepot nos brinda una pequeña lista de cuestiones a tener en cuenta para evitar esta saturación y proceder a la administración concreta de lo que realmente nos interesa, o lo que nos resulte útil. No pretendo con este artículo ahondar demasiado en los temas sino hacer que, intento captar la idea principal para que les resulte más amigable y obviamente traducirlo a nuestro idioma. Obviamente podrán leer todo el artículo original en profundidad si les interesa el tema.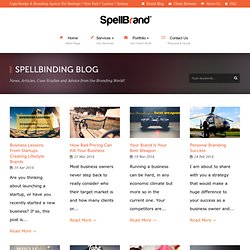 Anatomy of an online clothing store website Video Transcript: Today I wanted to do a very quick video on The Anatomy of An Online clothing Store. Recently we worked with a clothing fashion label client of ours, and we, of course, we created their brand strategy, brand identity, their website, e-commerce, online store and social media campaigns and all that.
Design Blog - Logo Design Works
La 26ª Bienal Internacional de Diseño Gráfico que se desarrolla en la ciudad de Brno, República Checa, es uno de los eventos más antiguos e importantes en materia de bienales de diseño gráfico. En su vigésima sexta edición el tema será la educación en el campo del diseño gráfico y la comunicación visual, y por primera vez, la Exposición Internacional se centrará en el trabajo creado por estudiantes, entre el 1 de enero de 2010 y el 31 de diciembre de 2013, en sus respectivas escuelas de diseño. La bienal se llevará a cabo del 19 de junio al 26 de octubre de 2014 en la Galería Morava de Brno. El plazo para presentar los trabajos vence el 31 de enero de 2014 y toda la información se puede bajar desde aquí.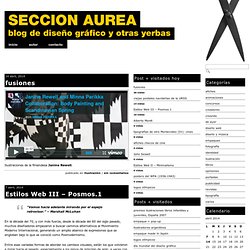 Sección Áurea, blog de diseño gráfico y otras yerbas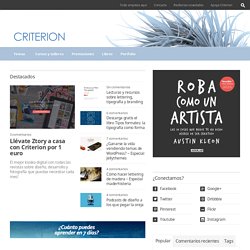 3D Bundle, descubre los secretos de una escena 3d Skeku | Recursos 3D Bundle es un mini proyecto de Javier López, @javilop, para acercarnos a los entresijos del mundillo tridimensional. Como él mismo deja entrever, se trata de ofrecer el contenido que a él le hubiera gustado encontrar para poder mejorar en su proceso de trabajo con las tres dimensiones. Ver presets de iluminación, materiales,etc… Recuerdo que en su momento encontré algo similar para Cinema4D y fue un descubrimiento extraordinario que me ayudó a mejorar la iluminación enormemente.
Dorsumi – D-news – Dorsuminews
Eventos septiembre 16, 2012 · Comentarios desactivados No, no hem plegat, tan sols és que encara estem de vacances fins mitjans d'octubre. Després d'un estiu amb nens les 24 hores del dia, ara que comencen el curs ens agafem un temps lliure No, no hemos cerrado, es que todavía estamos de vacaciones hasta medianos de octubre.
The joy of content creation (and the hazards of building in someone else's sandbox) AN INSPIRING STORY of content creation, which is also, although this particular tale ends happily, a warning about the hazards of building in someone else's sandbox. Stampylongnose makes wonderful videos about Minecraft (among other things) and is the first independent content creator in my young daughter's world. She follows him like you followed your first favorite blogger.
To complete a quality website design designers should have collect and implement some responsive image galleries, slideshows to manage your photos in better forms. Some transition effects, thumbnail views of image galleries needed for better and faster access and flexibility of your website. This article is A Collection of Modern Type Image Gallery Resource for web designers. Read More We have got an exciting Deal for all our Readers.
Estás en la página principal de la Designpedia, una enciclopedia wiki en red donde podrás encontrar la información más completa en internet del diseño español: diseñadores, proyectos, productos, escuelas de diseño, etc... ¿Qué es la Designpedia? La Designpedia es un proyecto para construir comunitariamente una enciclopedia libre sobre diseño, escrita de forma colaborativa por sus lectores. Es una iniciativa de la Fundación Signes, basándose en el concepto wiki, que permite crear colectivamente documentos web sin que sea necesaria la revisión del contenido antes de su aceptación para ser publicado en la red. La Designpedia arrancó el 1 de abril de 2009. Todo el texto de la Designpedia, y la mayorí­a de imágenes y otros contenidos, están cubiertos por la licencia Reconocimiento-CompartirIgual de Creative Commons.
Hola : Designpedia
How to Write a Wordpress Plugin
How to Write a WordPress Plugin, written by Ronald Huereca is an extensive, twelve entry series on the process of creating your own WordPress plugin. Every step is covered, from "Seven Steps for Writing a WordPress Plugin" all the way down to adding ajax to your plugin and releasing it. This is an excellent article series for anyone interested in the process behind creating your very first WordPress plugin. With code examples to help assist you, you will be on your way to future releases of your own plugins for the WordPress community.
Zenblog
LeoBaraldi - Ejemplos Flash, Ejemplos actionscript, Tutoriales Flash, Tutoriales actionscript, actionscript 3, curso de actionscript
Shigeru Komatsuzaki's Sci-Fi Art | nUvegante
Masters of Design and Innovation
Web Arena