Tragos
How to Brew Beer - Home Brewing Getting Started - Popular Mechanics - StumbleUpon. Serious about making large batches of beer?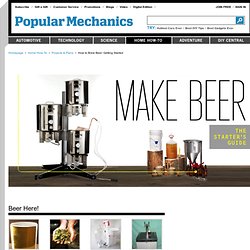 Splurge for a propane-powered rig with a three-tiered brew stand. This setup, by Indiana-based Blichmann Engineering, costs about $2000 and features a trio of 20- to 30-gallon pots and gas burners that put out 216,000 Btu per hour. (The high heat quickly boils large amounts of liquid, shaving hours off the brewing process.) More casual or budget brewers can make do with one big pot, heated on a common kitchen stove. Wine Types Chart | Primer - StumbleUpon. 15 New Drinks to Thrill Your Taste Buds | Sex, Cigars & Booze Lifestyle Magazine - StumbleUpon. The United States of GOOD Beer (Raw Image) - StumbleUpon. 10 Best Sexual Drinking Games | Made Manual - StumbleUpon. Some of the best sexual drinking games can be done either in an intimate setting with only you and your girlfriend or you can make it a party and have multiple people.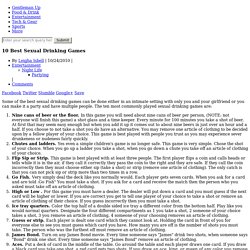 The ten most commonly played sexual drinking games are: Nine cans of beer or the floor. In this game you will need about nine cans of beer per person, (NOTE: not everyone will finish this game) a shot glass and a time keeper. 10 Jello Shots Worth the Hangover | Yummly - StumbleUpon.
---