Publishers
Marvel.com: The Official Site | Iron Man, Spider-Man, Hulk, X-Men, Wolverine and the heroes of the Marvel Universe.Comics, News, Movies and Video Games. Glénat, éditeur de bandes dessinées, manga, livres et presse. Dark Horse Comics. Manga :: Editions Tonkam. Editions Dargaud. Soleilprod > Bienvenue. Dupuis. Photos : Morvan et Bertail à l'Idem, imprimerie d'art de Paris - 18/04/2014 Bertail et Morvan, les auteurs de "Omaha Beach, 6 juin 1944" (co-édition Magnum Photos/ Aire Libre), se sont rendus à l'Idem à Paris, une superbe imprimerie d'art.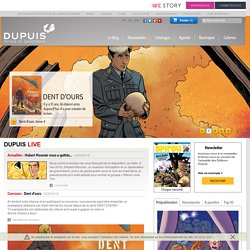 Ils assistaient à l'impression de lithographies exclusives qui seront proposées lors de la soirée de lancement de l'album le 27 mai 2014 à Paris. Voir les photos Interview : Yann à propos de "La femme Léopard" - 16/04/2014 Après « Le Groom vert-de-gris », le tandem Schwartz-Yann revient, le 2 mai prochain, avec une nouvelle aventure de Spirou, sous le ciel tourmenté du Bruxelles d'après guerre, mais aussi de l'Afrique coloniale.Lire la suite.
Bande dessinee : Editions Delcourt, edition de mangas, comics, et bd. Casterman - Splash page. Les Editions Gallimard. Les Humanoïdes Associés. Le Lombard.
---