MongoDB
amark/mongous
Genghis, the single-file MongoDB admin app.
Labs
phpMoAdmin - MongoDB GUI administration tool for PHP, built on Vork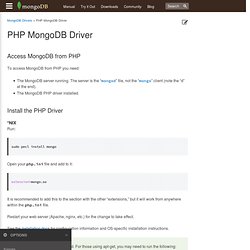 Run: Open your php.ini file and add to it: It is recommended to add this to the section with the other "extensions," but it will work from anywhere within the php.ini file. Restart your web server (Apache, nginx, etc.) for the change to take effect. See the installation docs for configuration information and OS-specific installation instructions. Note
PHP Language Center
With Ubuntu 10.10 recently launched (at the time of this article) many developers are upgrading to the latest and greatest Ubuntu to run their LAMP servers. Today I'm going create a LAMP server but without the traditional MySQL server and instead replacing it with MongoDB.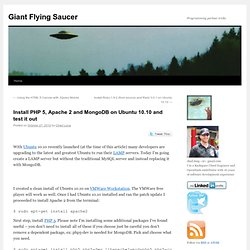 Install PHP 5, Apache 2 and MongoDB on Ubuntu 10.10 and test it out
Mongo
In addition to the charts that follow, you might want to consider the Frequently Asked Questions section for a selection of common questions about MongoDB. Terminology and Concepts The following table presents the various SQL terminology and concepts and the corresponding MongoDB terminology and concepts. Executables The following table presents the MySQL/Oracle executables and the corresponding MongoDB executables. Examples