DNS Black List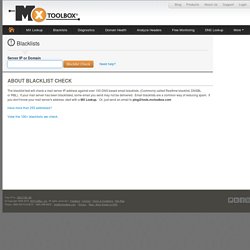 The blacklist test will check a mail server IP address against over 100 DNS based email blacklists. (Commonly called Realtime blacklist, DNSBL or RBL). If your mail server has been blacklisted, some email you send may not be delivered. Email blacklists are a common way of reducing spam. If you don't know your mail server's address, start with a MX Lookup.
Email Blacklist Check - See if your server is blacklisted
Open Relay Test
SORBS (Spam and Open-Relay Blocking System)
Skip over navigation The DNSBLs on this page are either confirmed dead or presumed dead - you should no longer be using them. Check the list of DNSBLs you have carefully against this list.
Spam Links - dead dnsbls and rhsbls
njabl.org
The CBL
SpamCop.net - Beware of cheap imitations
The Spamhaus Project