Color Picker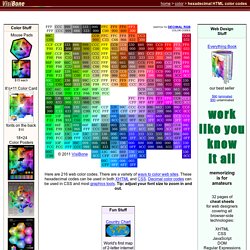 Everything Book our best seller $90 laminated $50 unlaminated work like you know it all memorizing is for amateurs 32 pages of cheat sheets for web designers covering all browser-side technologies:
3août2010 Sélecteur de couleurs (type Photoshop) Par Tof le mardi, août 3 2010, 13:35 Sélecteur de couleurs basé sur le modèle Adobe Photoshop, avec support HSB (Hue, Saturation, Brightness). Sélecteur de couleurs Par Tof le mardi, août 3 2010, 11:54
Couleurs - Bric à brac de Tof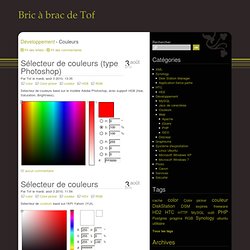 Color Picker
HTML Color Codes website provides free color tools for finding HTML colors for your website. Great tools HTML color chart and HTML color picker will make this simple as a walk in the park. To quickly start using HTML colors in your website take a look at How to use HTML color codes?.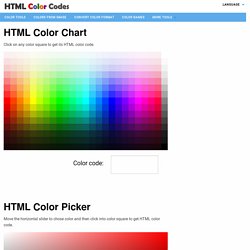 Le Chromafiltre est un outil Flash1 vous permettant de choisir et d'accorder visuellement des couleurs. La roue chromatique utilisée par l'auteur, Olivier de Brito, a l'originalité d'être basée sur les trois couleurs primaires classiques des peintres, à savoir le rouge, le jaune et le bleu. Deux sections sont disponibles en bas de l'outil: le Cercle: choisissez jusqu'à trois couleurs, accordez-les à votre guise, puis récupérez les codes HTML correspondants. les Gammes: près de 140 accords de couleurs prêts à l'emploi, que vous pouvez obtenir en choisissant conjointement un effet (de "puissante" à "sobre") et un type d'accord (de "analogue" à "contrastée"). La présence de la roue chromatique ainsi que les textes explicatifs pour chaque gamme en font un outil didactique appréciable.