Consommation Collaborative
Auriez-vous l'idée de vous inviter chez un parfait inconnu pour partager son déjeuner? D'emprunter la première voiture venue en bas de chez vous pour une course impromptue? De rester dormir sur un canapé autochtone à l'autre bout du monde? Et de laisser le touriste de passage squatter le vôtre? Non?Pourtant ces petits plats finiront peut-être à la poubelle.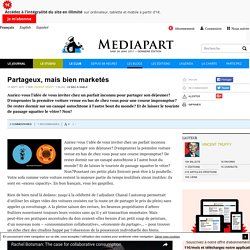 Suite à la lecture de l'article d'Hubert Guillaud sur Internetactu.net qui de façon plus large traite d'usage et de mésusages & suite à la lecture de Vincent Truffy sur son blog médiapart, j'ai voulu expliquer ce qui à mes yeux fait partie de la consommation collaborative, et des valeurs que je voyais naître grâce à ce mouvement. J'ai été gêné du mélange général que j'ai pu voir entre les différentes formes de pratiques qui existent et les différences qu'elles ont. Ainsi voilà pour moi les deux améliorations, deux formes de valeur ajoutée, qu'apportent la Consommation Collaborative / Economie Collaborative que je mettrai dans cet ordre :
Consommation ou partage collaboratif?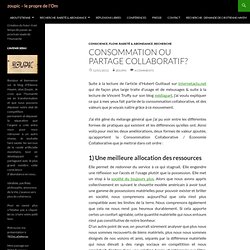 C'est en lisant Paul Ariès (Wikipédia), rédacteur en chef du Sarkophage – notamment La simplicité volontaire contre le mythe de l'abondance -, que j'ai mieux compris les limites qui me chiffonnaient dans la consommation collaborative. Celle-ci nous est souvent présentée sous les atours du partage et du don, alors qu'elle n'en est pas toujours. Le covoiturage et l'autopartage ne sont pas inspirés par une vision altruiste, comme on l'entend trop souvent. Le premier moteur du covoiturage et de l'autopartage n'est pas le partage, mais l'économie. Ce n'est pas sauver la planète qui motive les covoitureurs et les autopartageurs, mais amoindrir l'impact de la crise sur leurs finances personnelles, comme le soulignait déjà l'étude 2010 de l'Institut d'aménagement et d'urbanisme d'Ile-de-France (.pdf). Les utilisateurs de ces services sont d'abord à la recherche de revenus complémentaires.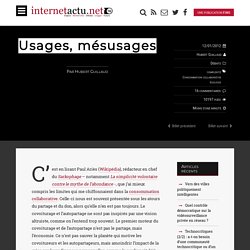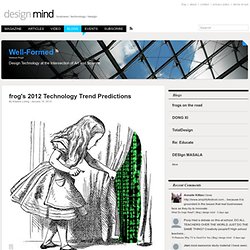 By Kristina Loring - January 10, 2012 While the Internet is buzzing with ways to survive the last year of the world (according to the ancient Mayan Calendar), frogs are thinking of other things that will shape culture this year. We asked frogs from across the globe to share their personal favorite tech trends that'll crop up this year and what their impact would be on design, business, entertainment, and our daily routines.
frog's 2012 Technology Trend Predictions
rachelbotsman.mp4 (video/mp4 Object)
Collaborative Consumption, Trust and the Evolution of Credit
Jeremy Barton owns a nice Subaru Impreza, but he rarely drives it. As a co-founder of a tech startup in San Francisco, he usually just rides his bike to work. So when Barton heard of a new website called Relay Rides that lets regular people rent out their own cars, it sounded perfect. "Not only does it help pay my car payment and my insurance, but I also get a really good feeling knowing that someone can use it," says Barton, who's 27. But getting started as a do-it-yourself car rental company proved more difficult than Barton expected.