Around the house
50 Life Hacks to Simplify your World. Jan 16, 2013 Life hacks are little ways to make our lives easier.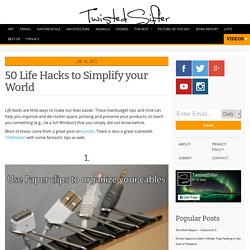 These low-budget tips and trick can help you organize and de-clutter space; prolong and preserve your products; or teach you something (e.g., tie a full Windsor) that you simply did not know before. 20 Awesome Do It Yourself Projects. Thursday, June 14, 2012 4:30 am, Posted by Chris Groves | Internet 20 Awesome Do It Yourself Projects Topics: At Home Project Ideas , Creative DIY Home Projects , Do It Yourself Projects for 2012 , Fun How To Projects , What to Do with Extra Stuff Are you bored and have a bunch of extra little items hanging around here and there?
Well we were in the same boat so we decided to round up 20 different awesome at home projects you can do. Surprising Cleaning New Uses - Real Simple. 25 Handmade Gifts Under $5. If your gift list is long and your budget is small here are some great Handmade Gifts that you can make.
Keep in mind that handmade items are not just beautiful but special… I love to give them and I love to receive them. 15 Cool Alcove Beds. Home design DIY Kids Weddings Fashion and Style FOOD Cool stuff 15 Cool Alcove Beds.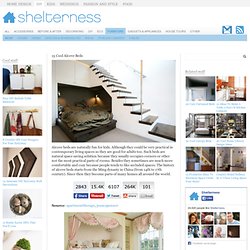 100 Skills Every Man Should Know: 2008's Ultimate DIY List. Automotive 1.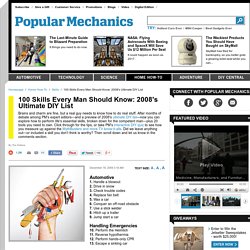 Handle a blowout2. Drive in snow3. Check trouble codes4. Replace fan belt5. How to Build a Go-Kart in One Day - DIY Go Cart Plans. Builder: Larry Erd, Pompano Beach, Fla.Plans: spidercarts.com "Black Widow" Cost: $689.15 1.)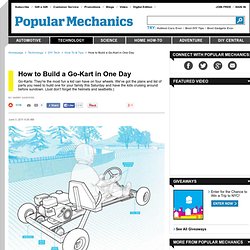 Plans and Parts Erd and his 7-year-old son, Harrison, used $14.99 plans for the "Black Widow" go-kart from spidercarts.com. Most Popular Repurposing Tricks of 2011. The best trick of all is repairing broken stuff.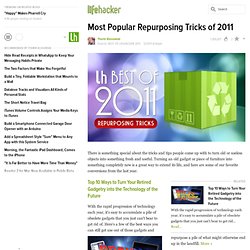 You would be amazed that in this throw away age so many things can be repaired easily. Invest your money in quality tools, and you will find the tool pays for itself in the first few repairs you make with it. There are wonderful adhesives and tapes that people aren't aware of that work wonders. Take an hour and go to a home hardware store and really browse around to discover some of these wonders of the modern world. My Collection of Funny Emails. Send funny emails to your friends! Why didn't I think of that?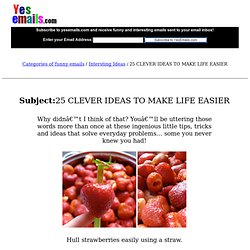 You'll be uttering those words more than once at these ingenious little tips, tricks and ideas that solve everyday problems... some you never knew you had! Hull strawberries easily using a straw. I Could Do That.
---