Acquisitions
NEW YORK Motorola's venture capital division has made an undisclosed strategic investment in Invidi, a start-up technology firm that promises to improve TV ad targeting. In December, Invidi received a similar cash infusion from several investors, including WPP Group's GroupM. At that time, GroupM's chief executive Irwin Gotlieb was named to Invidi's board of directors. The eight-year-old Invidi is one of several technology companies looking to conquer the emerging "addressable television" sector. Theoretically, Invidi's product allows advertisers to target specific TV ads to viewers based on their age, location, sex and other factors, enhancing the effectiveness of the medium for brands. "Addressable television advertising is a growing field that will change the future media landscape," said William Reinisch, vp, New Initiatives, Motorola strategy group.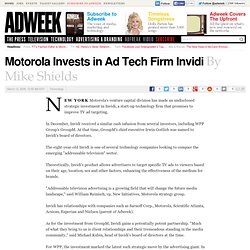 Motorola Invests in Ad Tech Firm Invidi
Microsoft to Buy Web Ad Analysis Company
Just An Online Minute… AOL Buys Bebo, Sheds Ad Execs
Publications - Microsoft Seals The Deal With Verizon - 01/08/200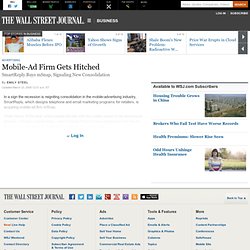 In a sign the recession is reigniting consolidation in the mobile-advertising industry, SmartReply, which designs telephone and email marketing programs for retailers, is acquiring mobile-ad firm mSnap. Under terms of the deal, which people familiar with the matter expect to be announced Monday, mSnap's shareholders, which include Partech International and First Round Capital, will get a minority stake in SmartReply, based in Irvine,...
Mobile-Ad Firm Gets Hitched
Google Buys Russian Contextual Ads Service for $140m
BREAKING NOW: Google is buying Russian contextual advertising company ZAO Begun for $140 million from UK-registered Rambler Media (many Russian firms now base themselves in the UK). Rambler owns 50.1 percent of Begun, so to secure the deal it is buying the remaining 49.9 percent stake from owner Bannatyne Limited and then selling the entire firm to Google. Rambler says it expects to net about $50 million from the deal which will finance its investments and potential acquisitions. Simultaneously Google announced (fairly obviously) that Rambler will now use Google AdSense for Search and AdSense for Content services.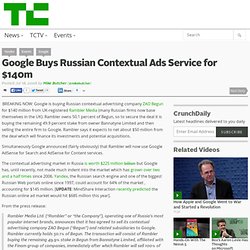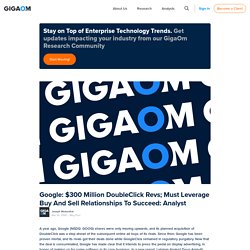 Google: $300 Million DoubleClick Revs; Must Leverage Buy And Sel
A year ago, Google (NSDQ: GOOG) shares were only moving upwards, and its planned acquisition of DoubleClick was a step ahead of the subsequent online ad buys of its rivals. Since then: Google has been proven mortal, and its rivals got their deals done while GoogleClick remained in regulatory purgatory. Now that the deal is consummated, Google has made clear that it intends to press the pedal on display advertising, in hopes of making up for some softness in its core business. In a new report, Lehman Analyst Doug Anmuth analyzes the prospect, and what DoubleClick offers Google: – Raw numbers: Anmuth forecasts DoubleClick revenue of $300 million for 2008, and EBITDA of $50-$60 million for the year. At the deal's ultimate price tag of $3.24 billion, earnings for the year will be slightly diluted, on the order of about 1 percent.