Social Media
The Social Media ROI Conversation
Social media, community, and social networks podcasts
25 Free Social Media Marketing & SEO Ebooks, White Papers + Other Downloads
Over the past two years I collected quite a few PDF and other downloads about social media in general, blogging, social media marketing and SEO. While blogs offer quick tips and overviews ebooks and white papers have the necessary depth to cover more intricate topics. Ebooks are particularly apt for the quite abstract concepts of social media marketing and SEO.
Do you love books? Love getting free stuff? Yeah, me too. That's why I've decided to share with you all a selection of excellent books on social media that are all available to read for free. Here's a selection of completely free ebooks which come highly recommended by social media professionals. They're yours to read for free whenever you like.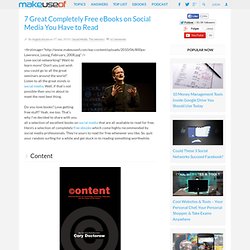 7 Great Completely Free eBooks on Social Media You Have to Read
Customer Data, Social Media Top Marketing Priorities for CMOs Worldwide
: Intel Software Partner Program : Ryan Lewis, Bonfire Social Media; Jon Bullinger, ISSP Global Program Marketing Director and Rick Puckett from Intel's marketing team : 9 months
Social Media Case Study: Intel, Success in Social Media B2B – Blogs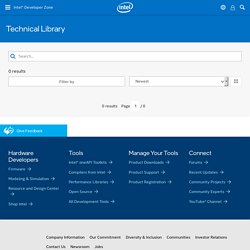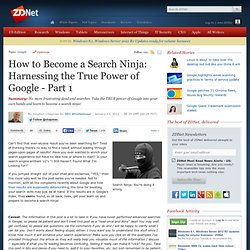 Search Ninja: You're doing it wrong. Can't find that ever-elusive result you've been searching for? Tired of thinking there's no way to find a result without wading through pages-upon-pages of results? Have you ever wanted to enrich your search experience but have no idea how or where to start? Is your search engine anthem U2's "I Still Haven't Found What I'm Looking For?"
Intel would like to invite you to an exciting tweet-up and (social) networking event on 16 th November from 6.30pm with two of its leading social media practitioners – @Beckyannbrown and @Kellyrfeller. Celebrating social media and its impact on our professions, Intel Director of Social Media Becky Brown and Senior Social Media Strategist Kelly Feller will detail Intel's approach to social media and plans for the future. The floor will then be opened up for conversation, sharing and idea generation. As Director of Social Media, Becky Brown an 18 year Intel veteran is responsible for the global strategy, framework, and tools to enable and measure world class social activations plans across all parts of the organization (business units, marketing team and geography teams). Kelly Feller after having been in "traditional" marketing roles for 15 years is now a social media addict and outspoken (read "loud") proponent of change and marketing evolution.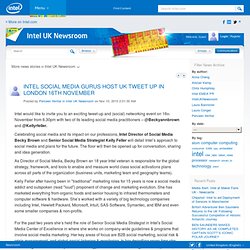 SOCIAL MEDIA GURUS HOST UK TWEET UP IN LONDON 16TH NOVEMBER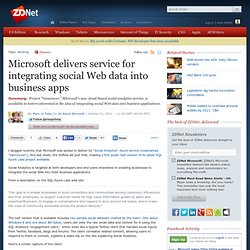 I blogged recently that Microsoft was poised to deliver its "Social Analytics" Azure service (codenamed "Vancouver") . And last week, the Softies did just that, making a first public test version of its latest SQL Azure Labs project available . Social Analytics is targeted at both developers and end users interested in enabling businesses to integrate the social Web into their business applications. From a description on the SQL Azure Labs web site:
Microsoft delivers service for integrating social Web data into business apps
The Microsoft Codename "Social Analytics" lab phase is complete. Here are our learning goals for this lab: How useful do customers find this scenario? API prioritization: We wanted to understand which features developers needed to implement first and how easy it is to implement these (for example, content item display, how to modify filters, etc.).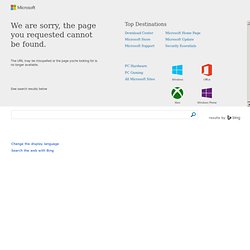 Codename "Social Analytics" | SQL Azure Labs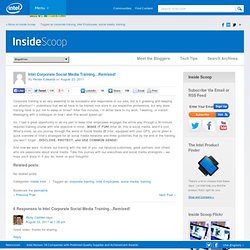 Corporate training is so very essential to be successful and responsible in our jobs, but is it grabbing and keeping our attention? I understand that we all have to be trained rock stars in our respective professions, but why does training have to put me to sleep at times? After five minutes, I'm either back to my work, Tweeting, or Instant Messaging with a colleague on how I wish this would speed up!
Corporate Social Media Training...Remixed!
Campus recruiting, employee referrals, corporate career sites—these are just a few of the many ways that you can find a job. But what about social media? Valerie wrote two blog posts on "Professional Networking and Social Media, Why All the Buzz?" ( Part 1 and Part 2 ), highlighting the connection between the two and how it could help you. But don't take it from me, take it from someone who found her job at Intel through social media IRL!
Jobs@Intel Blog · Intel Employees: How Social Media Got Me To Intel