"artistic junk" (aka junk to look at)
p87-5006.jpg (JPEG Image, 704x623 pixels)
Sandman+4_Blog-713123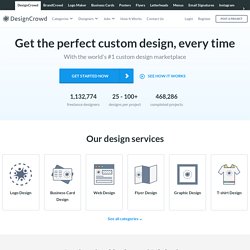 Adv. Effects Picture of the Day: January 17, 2014 Posted 15 minutes ago Detective by BrunoSousa from the contest Penguins 9.
Hark, a vagrant archive
Model of Herod's Temple by Alec Garrard
Alec Garrard, an 80-year-old retired farmer from Norfolk, England, has spent the last thirty years working on a 1:100 scale model of Herod's Biblical Temple. Mr. Garrard has liked creating models all his life, but as he was getting older, he began thinking about a single big project that would see him through to the end of his life. Having always been interested in architecture and religion, the retired farmer thought to combine his two passions and create a unique scale model of Herod's Temple. He had seen one or two other models of the structure during Biblical exhibitions, but he didn't find them accurate enough, and he knew he could do better. The expert model-maker started working on the project when he was in his 40′s.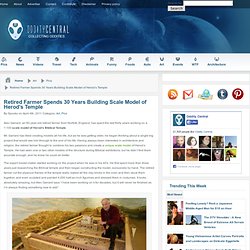 Stop Alien Abductions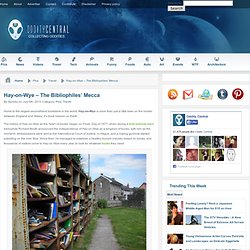 Hay-on-Wye - The Town of Books
Home to the largest secondhand bookstore in the world, Hay-on-Wye is more than just a little town on the border between England and Wales, it's book heaven on Earth. The history of Hay-on-Wye as the "town of books" began on Fools' Day of 1977, when during a bold publicity stunt, bibliophile Richard Booth announced the independence of Hay-on-Wye as a kingdom of books, with him as the monarch. Ambassadors were sent to the International Court of Justice, in Hague, and a rowing gunboat started patrolling on the river Wye.
Nazi UFO - Cetin BAL - GSM:+90  05366063183 - Turkey/Denizli
Time Travel Research Center © 2005 Cetin BAL - GSM:+90 05366063183 - Turkey/Denizli - Hitler's Flying Saucers - A Guide to German Flying Discs of the Second World War The existence of World War Two German field propulsion flying saucers is a topic which is denied by virtually every reputable authority in aviation history. It is also denied by many researchers studying German saucers. The problem is that in the years immediately following the Second World War the earth's skies suddenly began to be populated by flying craft which did some remarkable things.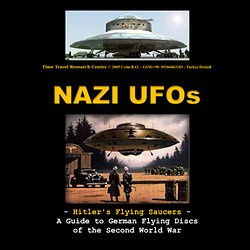 hello-kitty-chainsaw.jpg (JPEG Image, 1023x687 pixels) - Scaled (82%)
Laser Brigade - A comic about robots, cyborgs, and spaceships.
Meltdown at Google Earth: New 3D function goes awry as bridges flop like Salvador Dali paintings
By Daniel Bates Updated: 08:54 GMT, 24 March 2011 Warped and mangled beyond recognition, they look like a computerised version of a Salvador Dali painting. But these pictures are not the work of a Surrealist - they are what happened when Google tried to tinker with its images of Earth. Technicians have added elevation to the Google Earth tool but due to glitches the change had a bizarre effect on some of the world's most famous roads and bridges. Big dipper: This stretch of California's coast road at Big Sur appears to have lost all its strength in the Google Earth image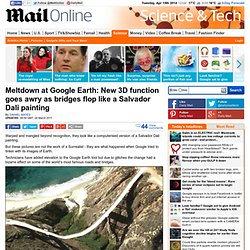 s Curiosities
3556.jpg (JPEG Image, 804x602 pixels) - Scaled (93%)
I d0n't know about you, but some of my favorite optical illusions are the Spot the Object optical illusions. At first, you have a really hard time trying to find whatever it is you're looking for, but once you've found it, you wonder how you could have ever missed something like that. Well, I'm going to hook you up with a Fruit and Vegetable Optical Illusion and all you have to do is spot the object, as there is something that is hidden within the image. Are you ready to see if you can find what's hidden? Scroll down to check out this amazing optical illusion.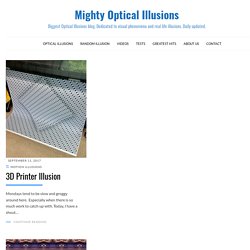 3011-ae151ead.jpg (JPEG Image, 480x320 pixels)