my web pages
Get flash to fully experience Pearltrees
Another way to understand all this is that I am showing how and why we are being afflicted with an avoidable "loss of soul", caused by authoritarian corporate structures and practices. And this problem is not going to go away unless it is exposed and named for what it is, and solutions developed. by xodarap Nov 15
This is not a blog but a work in progress - an analysis of what goes wrong with authoritarian corporate structures and a potential dialogue/forum for anyone who cares about this important feature of our times. by xodarap Nov 15
A discussion of the potentially fatal flaws in bureaucracies, public or private by xodarap Nov 15
I was shocked , amased, angered and saddened by what happened on 11 September 2001.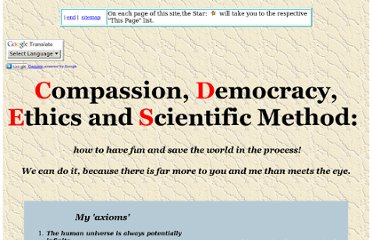 Compassion, Democracy, Ethics, & Scientific Method are prerequisites for survival on any civilisation. by xodarap Oct 6
Gerald Edelman's theories are rooted in neurology. In fact, he insists that this is the only foundation for a successful theory of consciousness: the answers are not to be found in quantum physics, philosophical speculation, or computer programming. The structure of the brain is accordingly a key factor.
Antonio Damasio Antonio Damasio ( Portuguese : António Damásio ; born February 25, 1944 in Lisbon ) is a University Professor and David Dornsife Professor of Neuroscience at the University of Southern California (where he also heads the Brain and Creativity Institute ), an Adjunct Professor at the Salk Institute , [ 1 ] and the author of several books describing his scientific thinking.
Adapted from a talk given at the Vision Sciences Society meeting in Sarasota FL, May 2001 Steven Lehar The Epistemological Divide