Web Design
The UI Pattern Factory. 9 Common Usability Mistakes In Web Design | How-To. Advertisement By now, all good designers and developers realize the importance of usability for their work.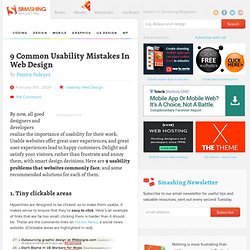 Usable websites offer great user experiences, and great user experiences lead to happy customers. Delight and satisfy your visitors, rather than frustrate and annoy them, with smart design decisions. Here are 9 usability problems that websites commonly face, and some recommended solutions for each of them. 1. CSS. How to create a better jQuery CSS stylesheet switcher. Style Sheet switchers (or "colour theme choosers") are not really that new.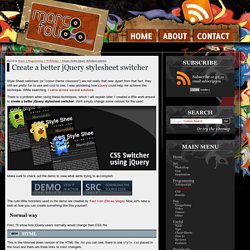 Apart from that fact, they still are pretty fun to use and cool to see. I was wondering how jQuery could help me achieve this technique. 32 Indispensable Bookmarklets for Web Developers and Designers : Speckyboy Design Magazine. All of these bookmarklets/favelets will be useful to all web designers and developers, they are the quickest method for testing, analyzing and tweaking any web page.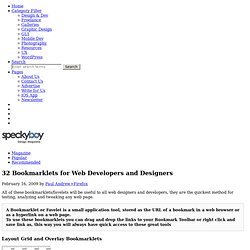 A Bookmarklet or Favelet is a small application tool, stored as the URL of a bookmark in a web browser or as a hyperlink on a web page. To use these bookmarklets you can drag and drop the links to your Bookmark Toolbar or right click and save link as, this way you will always have quick access to these great tools Layout Grid and Overlay Bookmarklets Bookmarklet Javascript Code (Copy and Paste) : javascript:void(d=document);void(el=d.getElementsByTagName('body'));void(el%5B0%5D.style.background='url( Feng-GUI - Attention Analysis for Websites and Advertisements. Welcome to the Open Source Design Pattern Library! | Open Source Design Pattern Library.
---