Protect
C'est une astuce qui a été postée sur ce newsgroup et qui a été récemment reprise par Digital Inspiration.Le principe consiste à lancer une recherche en utilisant l'opérateur inurl :.Par exemple : inurl:http://maps.google.fr.Rajoutez ensuite dans la barre d'adresses du navigateur ce commutateur : &as_qdr=y15.On demande au moteur de recherche d'afficher toutes les pages qui datent des 15 dernières années.Si j'en crois Google, Google Maps a donc été lancé le 4 avril 2005.En réalité, vous aurez bien du mal à trouver des datations antérieures au 31 janvier 2001 mais cette solution est utile pour qui veut connaître la date d'indexation (et donc, approximativement, de publication) d'une page web qui n'en comporte pas.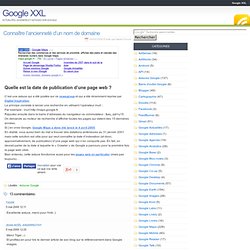 Connaître l'ancienneté d'un nom de domaine
Protéger ses données sous Mac OS - Le Blog de Lise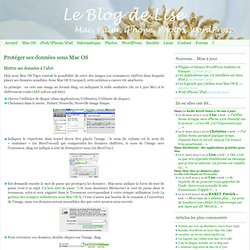 Mettre ses données à l'abri
Update July 14, 2008: Got a new iPhone 3G or upgraded your device to the iPhone 2.0 software? Here are our picks of the best free iPhone apps available in the App Store .
Feature: The 20 Best iPhone and iPod touch Applications