Soul & mod
Home
Welcome to Soul Underground! This will be a site dedicated to articles I've written over the past few years, CD reviews and pod-casts featuring records highlighting the Lifeline Rare Soul All-nighters or simply personal favourites of mine. The Stafford Story. A series of podcasts telling the story of the all-nighters help at Stafford's Top Of The World club on Newport Road.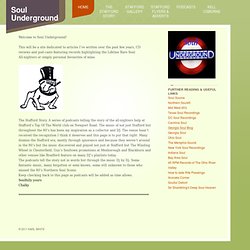 Record Shop (If you have any problems with the checkout facility, please email me instead) | Planet Records
www.jesterwild.com
Auctions
Northern Soul 45s, Rare Soul 45's, Funk 45s, R&B 45's and more 45 rpm vinyl records.
A mediados de los 60 era frecuente que grupos no muy conocidos hicieran versiones o adaptaciones de temas de éxito, en un intento de que el público, al ver un nombre familiar, lo comprara. También era corriente que adjetivaran el titulo de la canción con el nombre del baile o ritmo de moda en ese momento. El artista de hoy, A.C. Reed utiliza ambas tácticas en su muy funky y bailable Boogaloo Tramp, aunque me temo que no le sirvió para vender muchos discos.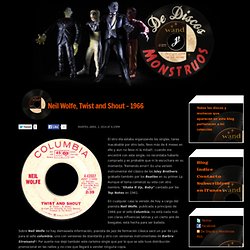 De Discos y Monstruos - De Discos y Monstruos
Soul music. soul 45s, crossover, R&B, Northern soul, modern soul
Voguing: Voguing and the House Ballroom Scene of New York City 1989-92 Photographs by Chantal Regnault, Introduction by Tim Lawrence Soul Jazz Books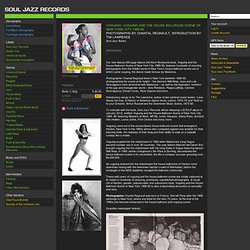 Soul Jazz Records – Voguing: Voguing and the House Ballroom Scene of New York City 1989-92 – Photographs by Chantal Regnault, Introduction by Tim Lawrence
WELCOME - Right Track Records
Buy Vintage Vinyl 7-Inch 45rpm Records - select45rpm - UK seller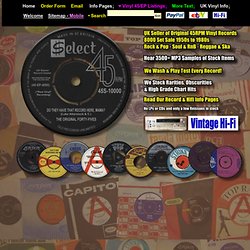 • Welcome & Music Styles Info: A Good Read • Soundfiles Info: You hear the Actual Item • Grades & Quality Info: Another Good Read
Al Supersonic and the Teenagers, negros con acento andaluz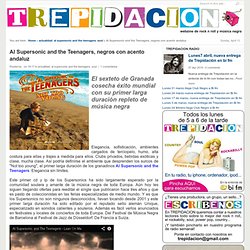 El sexteto de Granada cosecha éxito mundial con su primer larga duración repleto de música negra Elegancia, sofisticación, ambientes cargados de terciopelo, humo, alta costura para ellas y trajes a medida para ellos. Clubs privados, bebidas exóticas y clase, mucha clase. Así podría definirse el ambiente que desprenden los surcos de "Not too young", el primer larga duración de los granadinos Al Supersonic and the Teenagers. Elegancia sin límites.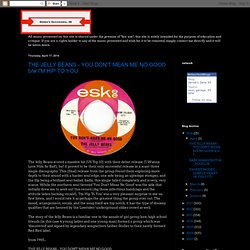 The combination of New York producer (and Sue Records label owner) Juggy Murray and vocalist Justine 'Baby' Washington was one of pure musical chemistry; Juggy placed Baby's husky, intense vocals inside productions that showcased the strength of her voice in the perfect setting. 'Doodlin' is a track that was written by the great jazz pianist Horace Silver, and while the original recording from 1954 (Horace Silver and The Jazz Messengers) is a relatively straight (but swingin') hard bop performance, this reworking takes on the Latin style rhythms that Horace Silver was also exploring in his music during the 1960's to brilliant effect. While the original is an instrumental, lyrics are added here; strangely, though, the lyricist isn't credited (it may very well have been Baby herself). The end result is a unique vocal melody with jazzy phrasing and a phenomenal performance from everyone on the track.
Derek's Daily 45
Sateli 3 - Al Supersonic & The Teenagers Super Dj Session!!! - 20/10/11, Sateli 3
Voices Of East Anglia
Boogaloo to Salsa Clips on Vimeo
Young Souls - Exclusive Film - 125 MAGAZINE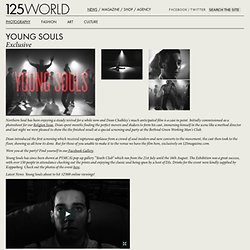 Exclusive Northern Soul has been enjoying a steady revival for a while now and Dean Chalkley's much anticipated film is a case in point. Initially commissioned as a photoshoot for our Religion Issue, Dean spent months finding the perfect movers and shakers to form his cast, immersing himself in the scene like a method director and last night we were pleased to show the the finished result at a special screening and party at the Bethnal Green Working Man's Club. Dean introduced the first screening which received rapturous applause from a crowd of soul insiders and new converts to the movement, the cast then took to the floor, showing us all how its done.
Ever Soul -Daptone Records
Another Daptone Records imprint, EVER-SOUL Records, extending a careful selection of timeless vintage recordings to our customers. Daptone Records house of soul is musician-owned and run, as much as we see our reflection in the sound of bygone powerhouses like Stax and Motown, we also feel special empathy and affection for the smaller independent soul artist and effort. Daptone owes a special debt and feels a warm kinship to the example and aesthetic of these past artists and their recordings.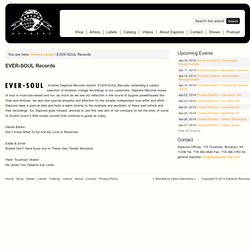 Quick opening note: not to sound like a broken record (pun intended) but the vinyl game is always humbling. No matter how many records you have, there's always more/better ones to still learn about and yearn for. I'm reminded of this all the time, especially when DJing with my betters such as the Southern Soulspinners who always come with crazy heat at every gig.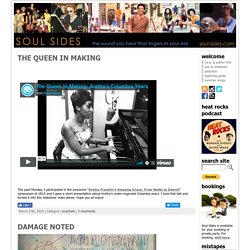 MOVIN' ON Pure Soul Music Barcelona SATURDAY April 5th 2014 At JAZZ ROOM Calle Vallmajor 33 – Plaza d'Adria (Barcelona) FFCC: Muntaner 23:30 h – 05:00 h Admission: 10 euros (including drink) Facebook: http://www.facebook.com/MovinOnBarcelona Email us at: movinon_barcelona@yahoo.com GUEST DJs: JAVI FRIAS (Madrid) AL OLMEDO (Granada) DAVID DE SANTIAGO (Madrid) + MOVIN' ON Djs: Edu Domingo, Marcos Juandó & Cristina Alonso +++ Friday welcome party at GINGER (Plaça Sant Just, Barcelona) FRIDAY 4th – from 21:00h til 02:30h – Free entry Guest DJ: Héctor Gimeno (Granollers) + Surprise, surprise! +++ Saturday Soul Sessions at MINUSA (Carrer Valencia 166, Barcelona) SATURDAY 5th – from 17:00h til 20:00h – Free entry Guest DJ: Jules (Barsoulona) + Malayka Erpen (SoulShakers Bamberg) + Kavel (Barcelona) [ Next date:: June 7th 2014 :: Guest DJs > CHRIS ANDERTON (UK) + MR FISH (UK) ]
la tienda de discos del sr. juandó | discos de verdad en el centro de Barcelona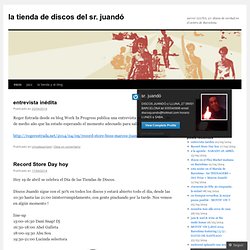 mo'jama records :: sell and trade vinyl corner
Can you imagine free web hosting service that has 99.9% uptime? Too good to be true? No more!
NORTHERN SOUL PRICE GUIDE
SALA: RITMO Y COMPÁS. C/ Conde de Vilches, 22 (Madrid) ZONA AVDA. DE AMÉRICA - CONCIERTO DÍA 24 NOVIEMBRE: STANLEY ROAD + PURPLE HEARTS + ALLNIGHTER. SALA: RITMO Y COMPÁS. C/ Conde de Vilches, 22 (Madrid) ZONA AVDA.
Ritmo, Soul y Otros Modernismos
En una ciudad, al norte de la Península e invadida por bárbaros profesionales del moderneo más pasteloso, resiste un pequeño colectivo al ataque del invasor, la BARCELONA SMART RESISTANCE Sibaritas de ritmos amargos expresados por la dulce voz de una dama que llora por un amor no correspondido, idealistas de un estilo que busca la combinación perfecta y única: aquí no vas a sorprender a nadie con un polo de Merc comprado para la ocasión, aquí estás con nosotros o contra nosotros, no intentes comprender, acéptalo o busca otro lugar. Como anunciamos hace meses, Le Clean Cut nació con la vocación de (como todos los proyectos que hemos iniciado A&A) llenar un hueco en la noche barcelonesa. Otro club de Rhythm & Soul???
LE CLEAN CUT, POR TUTATIS!!!!
The Boiler Rhythm and Soul Club - Barcelona