Casual
Feiyue shoes – página oficial de la deportiva Feiyue - Flying forward
Dapper Dude Designer Clothing | Mens designer clothing and fashion blog
Bellfield Clothing | Mens
Voi Jackets | Voi Jeans Coats, Gilets and Quilted Jackets | Latest Designer Jackets by Voi Jeans
Mens Designer Clothes | Buy Designer Clothing | Yakuza Clothing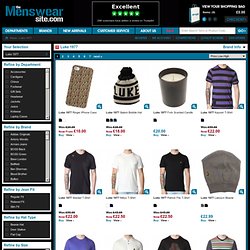 Luke 1977 is probably the best selling brand among young men in the UK at the moment. Whenever a fashion conscious male looks at buying some new designer mens clothing Luke 1977 is the brand that they're all heading for due to their amazing trends, iconic logo and eye catching designs.
Luke 1977
Casual Hooligan Brands
Men's Designer Clothing | Football Casuals Clothes | Distant Echo
April77
Eighties Casuals, the original urban brand.
Unique Menswear | Buy Mens Designer Clothes | Mens Designer Clothing Online
The Casual Connoisseur Blog
Connoisseur | The Online Store | casualco.com
Fashion brands online, over 300 brands
Fjallraven, YMC, Edwin Jeans, Penfield, Pretty Green | NOT Addicted
Perry Boys | Perry Boys Abroad | Info and Newsblog
Peaceful Hooligan
// we are weekend offender //
80s Casuals, Fila Vintage, Sergio Tacchini, Adidas Originals, ellesse
Aquascutum London
Stuarts London Designer Menswear | Buy Men's Heritage Fashion | Mens Retro and Vintage Clothes Online