Useful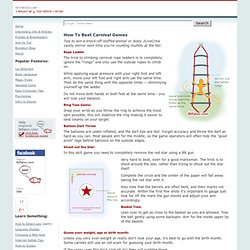 Tips to win a knock-off stuffed animal or dusty 2LiveCrew vanity mirror next time you're counting mullets at the fair.
How To Beat Carnival Games - Blifaloo
RPM-for-Unix HOW-TO: Using RPM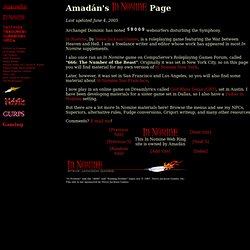 Amadán's In Nomine Page
Last updated June 4, 2005 Archangel Dominic has noted websurfers disturbing the Symphony.
Purple Pawn - Game News Across the Board
How to Build a Laser Death Ray: Material Response to Average Intensity
Amagi Games: The Setting Session
Star Saga
Star Saga is a series of floppy-based video games which combine a computerized game arbiter with hefty sections of printed text. Released in an era before the availability of the CD-ROM format, the titles make up for the limited storage available at the time by using print to attempt to tell a rich story.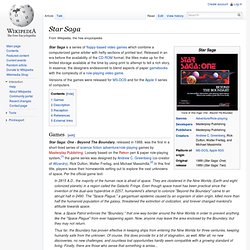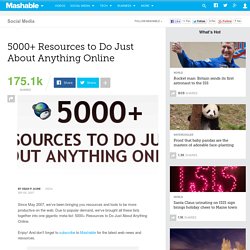 5000+ Resources to Do Just About Anything Online
Since May 2007, we've been bringing you resources and tools to be more productive on the web.
Catalog your books online
GURPS Bibliographies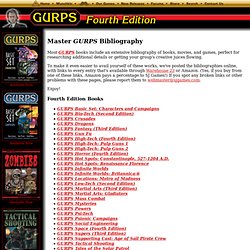 Most GURPS books include an extensive bibliography of books, movies, and games, perfect for researching additional details or getting your group's creative juices flowing.
In General 1. How can I submit a game or game idea?
Freqently Asked Questions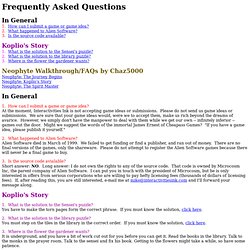 Suggestica: Suggestions from Trusted Authorities
Game Circle - Articles - Advice - Getting a Game Group and Keeping It
The Domesday Book Online - Home
The War Between alt.tasteless and rec.pets.cats
The Nobilis Role Playing Game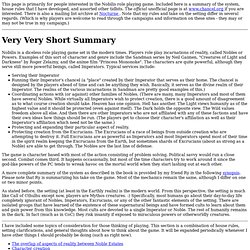 This page is primarily for people interested in the Nobilis role playing game. Included here is a summary of the system, house rules that I have developed, and assorted other tidbits.
Nobilis intro
Nobilis Resources
Diceless Roleplaying Game Rules - links
Historically "diceless" in roleplaying games has really meant free of "artificial" randomizers not simply dice, and such is the case of most of these games. "Non-artificial" randomizers are acceptable, these are generally balanced / non-transitive game choices which often map to real world choices.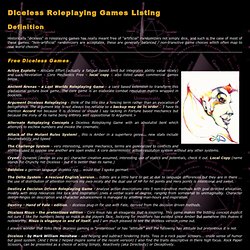 Star Trek Roleplaying Game: Worlds
The Museum Of Bad Art (MOBA)
What's New • About This Site • Site Map • What is an RPG? • Company List • Bigass List of Games • Free RPGs • Murder Mysteries • RPG Theory • System Design • Systems & Reviews • Games&Copyright • My Campaigns • Convention Reports • Links • Blog
An Encyclopedia of Role-Playing Games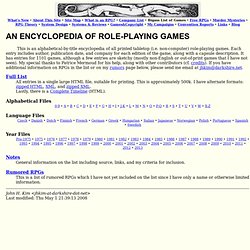 Good Experience Games
The Declaration of Independence
The unanimous Declaration of the thirteen united States of America hen in the Course of human events it becomes necessary for one people to dissolve the political bands which have connected them with another and to assume among the powers of the earth, the separate and equal station to which the Laws of Nature and of Nature's God entitle them, a decent respect to the opinions of mankind requires that they should declare the causes which impel them to the separation.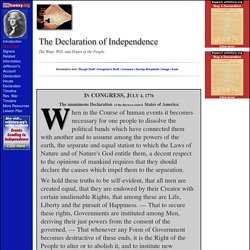 RPG Hoard
23 Ways To Speed WinXP <i>Without</i> Defrag
100 Milestone Documents