Useful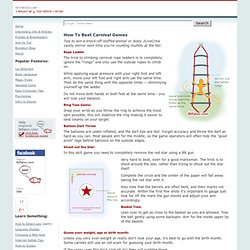 Tips to win a knock-off stuffed animal or dusty 2LiveCrew vanity mirror next time you're counting mullets at the fair. Rope Ladder The trick to climbing carnival rope ladders is to completely ignore the "rungs" and only use the outside ropes to climb on. While applying equal pressure with your right foot and left arm, move your left foot and right arm uat the same time.
How To Beat Carnival Games - Blifaloo
RPM-for-Unix HOW-TO: Using RPM
NextPreviousContents 5. Using RPM See also RPM-HOWTO document. 5.1 Basic RPM Commands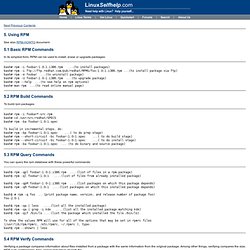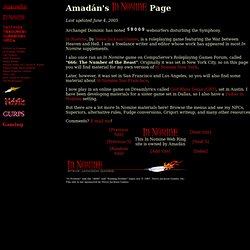 Amadán's In Nomine Page
Last updated June 4, 2005 Archangel Dominic has noted websurfers disturbing the Symphony.
Purple Pawn - Game News Across the Board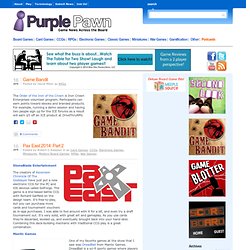 This year is the first year I've had the opportunity to attend PAX East in Boston, MA. Mostly known as a convention for video gamers, there's a large, and growing, tabletop component to the show. Though I only attended the show on Friday, I was able to see a LOT of great stuff for the tabletop, and even demo a few new games. Since there was a lot to see, I'll be breaking this up in to several posts over the next few days so as not to overload everyone. Wizards of the Coast My first stop was the Wizards of the Coast booth were they were showcasing the 2015 version of Duels of the Planeswalkers.
How to Build a Laser Death Ray: Material Response to Average Intensity
Amagi Games: The Setting Session
Star Saga
Star Saga is a series of floppy-based video games which combine a computerized game arbiter with hefty sections of printed text. Released in an era before the availability of the CD-ROM format, the titles make up for the limited storage available at the time by using print to attempt to tell a rich story. In essence, the designers endeavored to blend aspects of paper gamebooks with the complexity of a role-playing video game. Versions of the games were released for MS-DOS and for the Apple II series of computers. Games[edit] Star Saga: One - Beyond The Boundary, released in 1988, was the first in a short-lived series of science fiction adventure/role-playing games by Masterplay Publishing.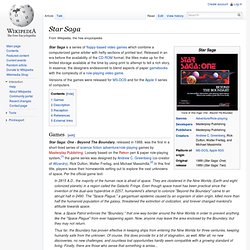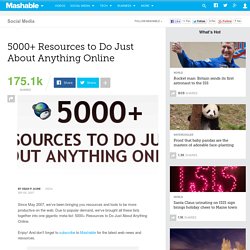 5000+ Resources to Do Just About Anything Online
Since May 2007, we've been bringing you resources and tools to be more productive on the web. Due to popular demand, we've brought all these lists together into one gigantic meta-list: 5000+ Resources to Do Just About Anything Online. Enjoy! And don't forget to subscribe to Mashable for the latest web news and resources.
Catalog your books online
GURPS Bibliographies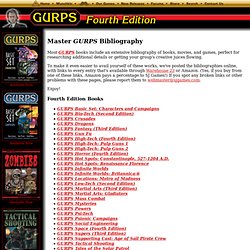 Most GURPS books include an extensive bibliography of books, movies, and games, perfect for researching additional details or getting your group's creative juices flowing. To make it even easier to avail yourself of these works, we've posted the bibliographies online, with links to every entry that's available through Warehouse 23 or Amazon. (Yes, if you buy from one of these links, Amazon pays a percentage to SJ Games!) If you spot any broken links or other problems with these pages, please report them to webmaster@sjgames.com.
In General 1. How can I submit a game or game idea? 2. What happened to Alien Software? 3. Is the source code available?
Freqently Asked Questions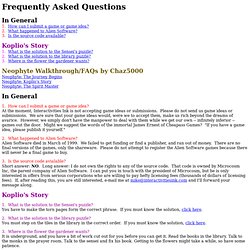 Suggestica: Suggestions from Trusted Authorities
Game Circle - Articles - Advice - Getting a Game Group and Keeping It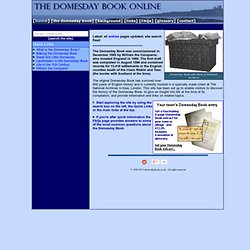 The Domesday Book Online - Home
Latest: all entries pages updated; site search fixed The Domesday Book was commissioned in December 1085 by William the Conqueror, who invaded England in 1066. The first draft was completed in August 1086 and contained records for 13,418 settlements in the English counties south of the rivers Ribble and Tees (the border with Scotland at the time).
The War Between alt.tasteless and rec.pets.cats By Josh Quittner It wasn't Trashcan Man's idea to raid rec.pets.cats, though I'm sure he wished it had been. Inciting a riotous Usenet flame war, like the war between alt.tasteless and rec.pets.cats, isn't a common notion of a good time. Then again, neither is starting fires in trashcans, blowing up one's hand with a firecracker or crashing a university computer system - all things that Trashcan Man has done, and done proudly.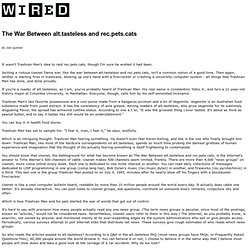 The War Between alt.tasteless and rec.pets.cats
The Nobilis Role Playing Game
This page is primarily for people interested in the Nobilis role playing game. Included here is a summary of the system, house rules that I have developed, and assorted other tidbits. The official unofficial page is at www.chancel.org if you are interested. There is also a mailing list archive at Nocturne . Note that my rules and take on the setting differ in several regards. (Which is why players are welcome to read through the campaigns and information on these sites - they may or may not be true in my campaign.)
Nobilis intro
Nobilis Resources
Diceless Roleplaying Game Rules - links
Historically "diceless" in roleplaying games has really meant free of "artificial" randomizers not simply dice, and such is the case of most of these games. "Non-artificial" randomizers are acceptable, these are generally balanced / non-transitive game choices which often map to real world choices. Free Diceless Games Active Exploits - Allocate Effort (actually a fatigue based limit but integrates ability value nicely) and Luck/Revelation - Core Mechanics Free - local copy - also listed under commercial games below. Ancient Arenas - a Lost Worlds Roleplaying Game - a card based extension to transform this gladiatorial picture book game. The core game is an elaborate combat resolution matrix wrapped in booklets.
Star Trek Roleplaying Game: Worlds
The Museum Of Bad Art (MOBA)
Since 1994, the Museum of Bad Art has been dedicated to bad art. It is only through the efforts of the worldwide Friends of MOBA that we have been able to carry out our mission: to bring the worst of art to the widest of audiences. MOBA maintains this website as well as three bricks-and-mortar galleries, all in the Boston, MA area. Directions and maps can be found here. Through traveling exhibits, special events, and changing exhibits, we share the best bad art ever assembled in one, two or three museums.
What's New • About This Site • Site Map • What is an RPG? • Company List • Bigass List of Games • Free RPGs • Murder Mysteries • RPG Theory • System Design • Systems & Reviews • Games&Copyright • My Campaigns • Convention Reports • Links • Blog This is an alphabetical-by-title encyclopedia of all printed tabletop (i.e. non-computer) role-playing games. Each entry includes author, publication date, and company for each edition of the game, along with a capsule description. It has entries for 1101 games, although a few entries are sketchy (mostly non-English or out-of-print games that I have not seen). My special thanks to Patrice Mermoud for his help, along with other contributors (cf. credits).
An Encyclopedia of Role-Playing Games
Good Experience Games
The Declaration of Independence
RPG Hoard
23 Ways To Speed WinXP <i>Without</i> Defrag
100 Milestone Documents