RHINO
Cobalt (CAD program) Cobalt is a parametric-based computer-aided design (CAD) and 3D modeling program that runs on both Macintosh and Microsoft Windows operating systems.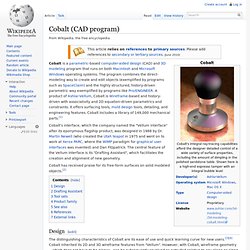 The program combines the direct-modeling way to create and edit objects (exemplified by programs such as SpaceClaim) and the highly structured, history-driven parametric way exemplified by programs like Pro/ENGINEER. A product of Ashlar-Vellum, Cobalt is Wireframe-based and history-driven with associativity and 2D equation-driven parametrics and constraints. 3D fractal explorer ::: gallery / animations. ArrayCrvPLUS v2.0. ArrayCrvPLUS enables new ways to distribute items along path curves or path curves on surfaces ( polysurfaces, meshes ).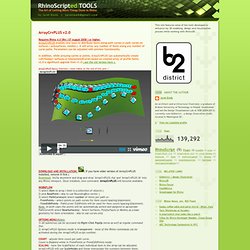 It will array any number of items along any number of curve paths. Parameters can be adjusted with preview functionality. In addition, while arraying curves or points, ArrayCrvPLUS can automatically create Loft/Sweep1 surfaces or InterpolatedCurves based on created array of profile items.v2.0 is significant upgrade from v1.0 ( see the old version here ). ArrayCrvPLUS Basics Overview ( more videos at the end of this post ) DOWNLOAD AND INSTALLATION: ( if you have older version of ArrayCrvPLUS installed, remove it first )Download, UnZip anywhere and drag-and-drop 'ArrayCrvPLUS.rhp' and 'ArrayCrvPLUS.tb' into any Rhino viewport.
@improved. Basento Viaduct Simulation. [Kangaroo Simulation of the Basento Viaduct Structure designed by Sergio Musmeci] Italian Engineer Sergio Musmeci's design for the Basento Viaduct (completed 1969) utilized a method of form-finding based on the stretching of tensile fabric to develop an optimized shape which was then constructed out of a continuous concrete shell structure.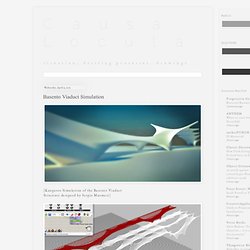 This methodology arrives at a form which presumably distributes stress more evenly than a more typical trussed or arched system. 3D Printing Services for Sellers. Ponoko is a 2D and 3D printing service with a wide range of materials on offer including 2D printing of paper cardstock and a whole range of electronic components that you can include with your designs.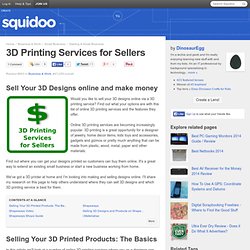 Awesome. Ponoko have printing facilities in the US, Germany, Italy, UK and New Zealand. Note that not all materials are available from all locations. I've been getting the Ponoko newsletter for a while and like a lot about what they are doing. 25 (Free) 3D Modeling Applications You Should Not Miss. Technically, 3 Dimensions refers to objects that are constructed on three plans (X, Y and Z).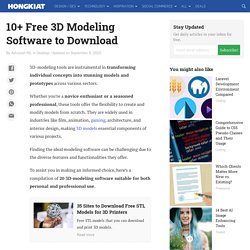 The process of creating 3D graphics can be divided into three basic phases: 3D modeling, 3D animation and 3D rendering. Three dimensional (3D) computer graphics are widely used and they are almost too common to see anywhere, let it be movies, products designs, advertisements, etc. Although they are commonly seen, that doesn't mean they are easily created. In order to interactively control a 3D object, it must be created in a 3D authoring tool which usually cost a lot to a non-professional user. Code & Form Rhino Rss Feed. Interactive Parametrics Workshop W/ Studio Mode And Makerbot Friday January 14th 1AM Interactive Parametrics Workshop with Studio Mode and MakerBot, NYC Feb 19-20/21 I'm excited to announce that I will be doing a workshop in interactive parametric modelling with Studio Mode and MakerBot in New York, Feb 19-20 with an optional extra day on Feb 21 .
We will be using Processing along with CAD tools like Rhino3D to produce parametric models to output 3D models for digital fabrication. Rhinoceros. Rhino script pdf eBook Download. INTRODUCTION TO RHINOSCRIPT. How To | RhinoDersleri.com. Rhinotuts.com - Your #1 Source for Free Online Rhinoceros Tutorials! Z-programs.vacau.com/pdfBooksTutorials/DigiToolbox_ Rhinoscripting...pdf. Crisis Fronts - Studio Script Library. This is a collection of script developed and found by members of the studio.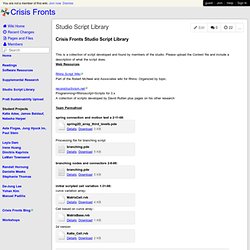 Please upload the Context file and include a description of what the script does.Web ResourcesRhino Script Wiki Part of the Robert McNeel and Associates wiki for Rhino. Organized by topic.reconstructivism.net Programming>Rhinoscript>Scripts for 3.x A collection of scripts developed by David Rutten plus pages on his other researchTeam Permafrostspring connection and motion test a 2-11-08: Processing file for branching script branching nodes and connectors 2-8-08: initial scripted cell variation 1-31-08: curve variation array- RhinoV3 SP3. Perhaps not very well known utility available on M$ site: screnc.exe Script encoder allow us to play little bit with encoding.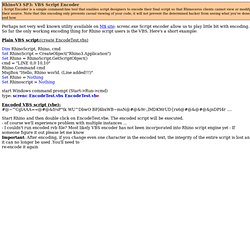 So far the only working encoding thing for Rhino script users is the VBS. Here's a short example: Plain VBS script:(create EncodeTest.vbs) Dim RhinoScript, Rhino, cmd Set RhinoScript = CreateObject("Rhino3.Application") Set Rhino = RhinoScript.GetScriptObject() cmd = "LINE 0,0 10,10" Rhino.Command cmd MsgBox "Hello, Rhino world. Sufficiently Caffeinated. I was looking for a rib cutting script a few months back for laser cutting some model mock ups, but I ran into some issues.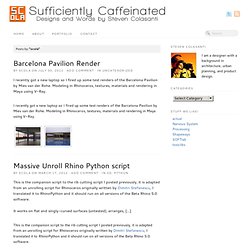 Since the OS X version of Rhinoceros does not directly support the rhinoscript (.rvb) language, the developers have been implementing a cross platform scripting solution in python for Rhino 5.0. The RhinoPython implimentation is still relatively new there isn't a broad range of scripts available in the community yet. Rhinoscript. Cwwang.com Che-Wei Wang Rhinoscript 04.01.09 Sprocket Rhinoscript UPDATE: this script generates inaccurately spaced teeth. sorry!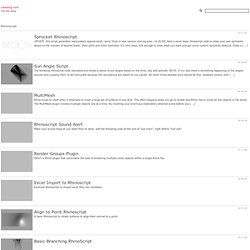 Fixes in new version coming soon. (6.25.09) Here's some basic rhinoscript code to draw your own sprockets based on the number of desired teeth, chain pitch and roller diameter. It's very basic, but enough to draw what you want and get some custom sprockets lasercut. RhinoJungle - The jungle where all Rhino animals live. Rhinoscript for rendering named views - RhinoScripts | RhinoTuts. Dcardoso/www/hello3dworld/hello3dworld.pdf. Scripts for paper modelers in Rhinoceros 3D - PaperModelers.com.
Dear Engeener Spendlik Your scripts are just awesome. Part numbering is what I dont like (hate, in fact ). Panelingtools. Rhinoscript. Archive for rhinoscript 100915_ TVMNY in Contemporary Digital Architecture Dimitris Kottas | Contemporary Digital Architecture: Design & Techniques. Rhino. I'm excited to announce that I will be doing a workshop in interactive parametric modelling with Studio Mode and MakerBot in New York, Feb 19-20 (with an optional extra day on Feb 21).
We will be using Processing along with CAD tools like Rhino3D to produce parametric models to output 3D models for digital fabrication. MakerBot Industries have graciously offered to lend us some MakerBot Thing-o-matics to produce models from the workshop. Participants are also free to use on-site KNK High-Force cutters. The full announcement follows below, please visit Studio Mode's announcement for enrollment and more details. Also check out the series of Processing primers I've been writing in preparation for the workshop. 3a. Ribs – Rhinoscript « Digital Fabrication in Architecture Group. 1. Use Control Point Curve to create 3 different profiles closed shape. 2. Scripting Essentials. RhinoScripting Resources. Help with rhino script. RhinoScript.org.
-- Computational Design Solutions Part I -- Computational aesthetics. Command Macros and Scripting. Main Page - Scripting. Category:RhinoScript - Scripting. Python: Scripting language for Rhino. The rhino programming advanced tutorial Rhinoscrip RS the Scripts in Rhino, RVB is also - Page 1. Www.design.upenn.edu/new/arch/BalmondWebsite/Balmond Flash_Penn.swf. October 2011. DESIGN(ing)ORGAN(ization) MADEinCALIFORNIA ///Co.De. Component wall. Rhino: randCube.rvb. Pages of code RVB-Processing / B. Pages of Code / RVB / Back. Blog : Twisted Architecture. Phyllotaxis pavilion. Brazil:home. Rhino:rendering. Lighting and rendering details in Rhino. Rhinoscript. Developer:opennurbs:home. RhinoScripted Tools. Image-Based Circle Packing.
---