Read Blogs
Mindful Momma
The Anthropik Network
Hippie Couture Blog | Fashion - Art - Music - Culture
Cage Free Family
BlogCatalog
Homeopathicelements Weblog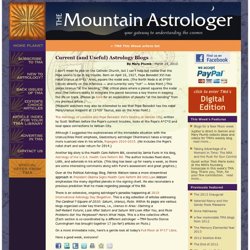 | March 29, 2010 I don't mean to pick on the Catholic Church, but I can't help but notice that the Pope seems to be in big trouble. Born on April 16, 1927, Pope Benedict XVI has natal Uranus at 0°51′ Aries, square the nodal axis. (The North Node is at 0°09′ Cancer, directly on the infamous — and currently very "hot" — Aries Point.) This places Uranus "at the bending," that critical place where a planet squares the nodal axis. The native's ability to integrate the planet becomes a key theme in keeping the life on track.
Current (and Useful) Astrology Blogs | The Mountain Astrologer
EARTHWORKS
South Node Astrology
Ancient Tides
Frank Don — Frank Martin Don LLC – Professional Intuitive & Astr
Profile - Setup Account
Saturday, 13. February 2010 The Origins Of Myths And Superstitions TimelessMyths was formed to offer a unique reference point on old urban myths, legends & tales.
~~~~~ The Esoteric Blog: Ursi's Eso Garden ~~~~~