Creative Things.
Modern Ads Monday #9 | NewEvolution
Date a girl who reads. Date a girl who spends her...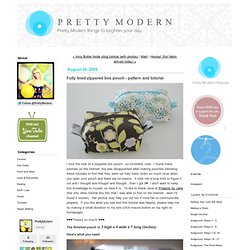 I love the look of a zippered box pouch...so incredibly cute. I found many tutorials on the internet, but was disappointed after making pouches following these tutorials to find that they were not fully lined; looks so much nicer when you open your pouch and there are no seams. It took me a long time to figure it out and I thought and thought and thought...then I got it♥ I don't want to keep this knowledge to myself, so here it is. I'd like to thank Jane at Projects by Jane (the only other tutorial like this that I was able to find on the internet - wish I'd found it sooner).
Fully lined zippered box pouch - pattern and tutorial - it's a Pretty Modern life