Body Modifications.
Ryan Mason » Needlebuzz Tattoo Blog //// Artists • Studios • Pin-ups • Books • Design. Tattoo Decision Making Flowchart | New Look Houston. Jess Loves Fred: The world is divided... ...into two different kinds of people: Those who have tattoos, and those who are afraid of people with tattoos - Unknown.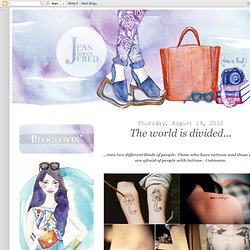 Death eater tattoo by frl.zucker;, Dad I Love You by Joseph Xu, Love is enough by tarabreanne6131, Wolves byghost patrol, ankle hearts by dannyzappa, kings/queen foot tattoo by sally lindsell, heart and needle by elizabeth haley., bird finger by nelogika, bow knees by j e h 1 8 2 narwhal by devin lucid, spine by alison hillard, feet by sylvie LS, birds by rasidel slika, heart of a mother by Poison Arms, paperplane/coffee by Olalla U., bunny by Rolf F.. bird tattoo by totally stoked on you, world map by ;;&;;, free by kat burns, feather by helen.ja, love by .elsie*cake, twig by sadie w. harris, scissors by s am desantis, Eveything was beautiful by Lou O' Bedlam, Urban Primitive - Display tattoos from 2009.
Urban Primitive - Display tattoos from 2009. Grey Matter. Good morning, ModBloggers!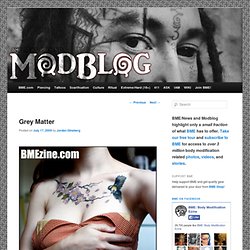 Let's start the day off with the lovely Finch (seen wearing substantially less clothing here) and this very pretty chest piece, featuring…huh, what is that? Some kinda falcon or something? I'm no ornithologist. Vintage Tattoos. The practice of tattooing is older than you thought.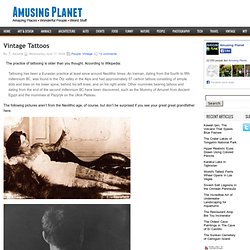 According to Wikipedia: Tattooing has been a Eurasian practice at least since around Neolithic times. An Iceman, dating from the fourth to fifth millennium BC, was found in the Ötz valley in the Alps and had approximately 57 carbon tattoos consisting of simple dots and lines on his lower spine, behind his left knee, and on his right ankle. Other mummies bearing tattoos and dating from the end of the second millennium BC have been discovered, such as the Mummy of Amunet from Ancient Egypt and the mummies at Pazyryk on the Ukok Plateau. The following pictures aren't from the Neolithic age, of course, but don't be surprised if you see your great great grandfather here.
---