Ebooks, Tutos
Search
HTML5
Book Description Make sure your website or web application users get content updates right now with minimal latency. This concise guide shows you how to push new data from the server to clients with HTML5 Server-Sent Events (SSE), an exceptional technology that doesn't require constant polling or user interaction. You'll learn how to build a real-world SSE application from start to finish that solves a demanding domain problem.
Book Description David Gould's acclaimed first book, Complete Maya Programming: An Extensive Guide to MEL and the C++ API, provides artists and programmers with a deep understanding of the way Maya works and how it can be enhanced and customized through programming. In his new book David offers a gentle, intuitive introduction to the core ideas of computer graphics.
Programming
Book Description Covering the latest version of the jQuery Mobile Framework, jQuery Mobile: Develop and Design teaches readers step-by-step how to get started, how to write code, and ultimately how to create mobile websites using the jQuery Mobile framework. The book is hands-on, with code examples (with corresponding on-line demos) and activities throughout. Table of Contents Part I: The foundation of jQuery Mobile Chapter 1. Introducing the future of web development Chapter 2.
jQuery Mobile: Develop and Design
IT eBooks - Free Download - Big Library
CSS: The Missing Manual: The Missing Manual eBook: David Sawyer McFarland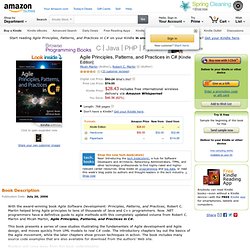 But Bob, you said you'd be done with the book last year. —Claudia Frers, UML World, 1999 Bob's Introduction
Agile Principles, Patterns, and Practices in C# eBook: Robert C. Martin, Micah Martin
The Node Beginner Book eBook: Manuel Kiessling
JavaScript & jQuery: The Missing Manual: The Missing Manual eBook: David McFarland
The Book of CSS3: A Developer's Guide to the Future of Web Design eBook: Peter Gasston
jQuery Compressed eBook: Jakob Jenkov
The Definitive Guide to HTML5 eBook: Adam Freeman
Chapter 1: Getting Started The book starts off with a quick introduction to jQuery, what it does and why it works so well. As the authors point out one of the great things you learn about jQuery right away is that it abstracts away browser quirks for you.
Learning jQuery, Third Edition eBook: Jonathan Chaffer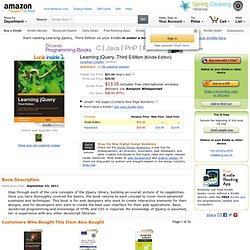 JavaScript Patterns eBook: Stoyan Stefanov
Head First HTML5 Programming eBook: Elisabeth Robson, Eric Freeman
monocross - A cross-platform MVC pattern for mobile development in .NET/C# and Mono
Professional Cross-Platform Mobile Development in C# (9781118157701): Scott Olson, John Hunter, Ben Horgen, Kenny Goers
HTML5 Tutorial | HTML 5 Tutorial
It's not rocket science. To the uninitiated HTML5 might look like rocket science, but it's not. Believe me, if you passed high school algebra you can figure this out. My goal on html-5-tutorial.com is to give you a good solid start on doing just that. When you have completed this tutorial you'll have a basic understanding of HTML and know how to go about getting a domain and building a simple website. You won't be ready to quit your day job, but...