Hardware
Six spring cleaning tips for all the tech in your life. Spring has sprung, and while your neglected garage might be beckoning, the tech you use in your daily life could also use a little cleaning love.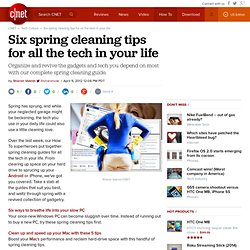 Over the last week, our How To superheroes put together spring cleaning guides for all the tech in your life. From clearing up space on your hard drive to sprucing up your Android or iPhone, we've got you covered. Build the Mac Pro That You Wish Apple Released. Understanding RAM Timings. DDR, DDR2, and DDR3 memories are classified according to the maximum speed at which they can work, as well as their timings.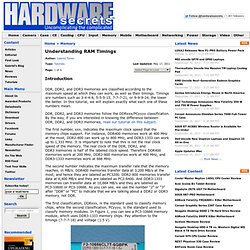 Timings are numbers such as 3-4-4-8, 5-5-5-15, 7-7-7-21, or 9-9-9-24, the lower the better. In this tutorial, we will explain exactly what each one of these numbers mean. DDR, DDR2, and DDR3 memories follow the DDRxxx/PCyyyy classification. By the way, if you are interested in knowing the difference between DDR, DDR2, and DDR3 memories, read our tutorial on this subject. The first number, xxx, indicates the maximum clock speed that the memory chips support.
Best Computer Speakers Under 50 dollars in 2012. If you are in the mood for a different brand and aesthetic design, the BassPULSE Hi-Fidelity System by GOgroove which will work for MP3, Mac, PC, and home-theater will likely appeal to you.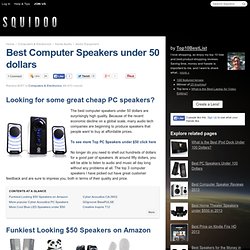 It has a sleek modern design that looks like it would fit in any rave or club setting. GOgroove BassPULSE Hi-Fidelity 2.1 Sound System with Subwoofer for PC, Mac, MP3, iPod, Tablets and Home-Theater Of course, design alone is not worth spending cash. The actual sound is great for an inexpensive system like this. It includes a subwoofer and two unique styled surround sound speakers. How to: Setup SSD boot drive with secondary Hard disc optimization. OCN Thread of the month - June 2011 "AppData" folder can get huge, and because this is one of the most active folders this is the best folder to move to ensure less random use of the SSD to help it extends its life. quantum tunneling is the achilles heel of SSD technology and why it has a expiration date based on hours used. in other words you can only punch so many holes in silicone. so, moving the "AppData" folder would be the biggest optimization a user can do with Windows on a SSD.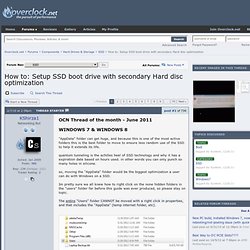 Im pretty sure we all knew how to right click on the none hidden folders in the "users" folder far before this guide was ever produced, so please stay on topic. The entire "Users" folder CANNOT be moved with a right click in properties, and that includes the "AppData" (temp internet folder, etc). Raspberry Pi Should Achieve "2X The iPhone 4S Performance" The Raspberry PI will supposedly outperform the new iPhone 4S across a range of content.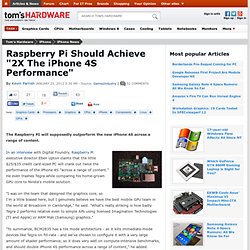 In an interview with Digital Foundry, Raspberry Pi executive director Eben Upton claims that the little $25/$35 credit card-sized PC will crank out twice the performance of the iPhone 4S "across a range of content. " He even trashes Tegra while comparing his home-grown GPU core to Nvidia's mobile solution. Introduction to Computer Science and Programming - Download free content from MIT.
Overclocking
Parts. Tom's Hardware: Hardware News, Tests and Reviews. Guide to Building. The editorial team here at Tom's Hardware has supported new PC builders since 1997 with tips, tricks, and sage advice.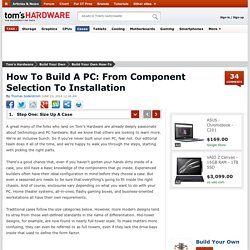 Our most complete builder's guide was published back in 2006. Today's updates add the best of what's new to what's tried-and-true. Even though the computer industry's primary constant is change, there are several "constant constants" to aid builders in component selection. Tom's Hardware Guide has been a primary resource, covering the latest technologies for over thirteen years. Our community members have answered individual hardware questions for nearly as long, both sources working to prevent common mistakes that might ruin a well-intentioned PC project. Component Overview : Best Of Tom's Hardware: Beginner's Guide To Motherboard Selection. Vast PCB real estate allows motherboard manufacturers to pack many features onto a full-ATX motherboard, resulting in a bevy of associated components to consider: Retained from our 2006 article, this Socket 775 motherboard still represents the layout of typical high-end products, allowing anyone who's unfamiliar with onboard components to use it as a guide.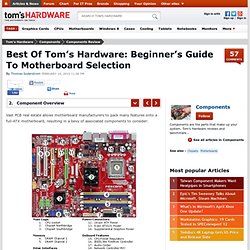 Layout features and details depend on the motherboard's target market, price point, and a few underlying technologies. [Guide] Air Cooling Questions Answered Here! (Updated 8/16/10) 4.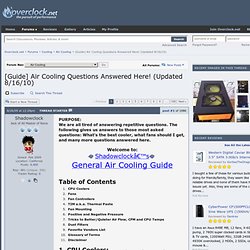 TIM a.k.a. Thermal Paste- Personal Favorite (OCZ Freeze, MX2 or 3, IC7) Cooling. What better way to wrap up a scorching summer than with a last word on cooling?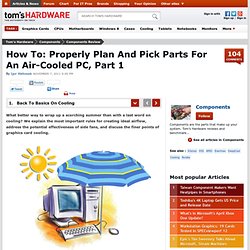 We explain the most important rules for creating ideal airflow, address the potential effectiveness of side fans, and discuss the finer points of graphics card cooling. At least in Europe, the summer wasn't really all that warm (Ed.: Yeah, try living in Bakersfield, CA). But for a PC owner or do-it-yourself builder, the issues of waste heat, cooling, and ambient temperature are always worth thinking about. That's why we're going to start at the very beginning in this, our introduction to cooling. Balanced Gaming PC. Are you disappointed?
Are you frustrated? Are you wondering why your PC won't game? Before you make a rash decision, resulting in a wrongful upgrade or a new system purchase, you need to know exactly what it means to build a balanced gaming platform. Welcome to one of our most ambitious projects ever; this is Part 1 of a multi-part series aimed at educating PC users on what it means to seek balance in their configuration. Balance is what is often lacking in standard off-the-shelf PCs. Who's Who In Power Supplies: Brands, Labels, And OEMs : Manufacturers, Designers, And Labels. Did you think all power supplies were manufactured by the brand selling them? We show you what makes a good PSU and reveal who actually builds PSUs.
You can actually find lots of quality, instead of just scrap metal, behind some of the budget labels. Between gobs of reader feedback and our own data compiled over many years, we've managed to put together a fairly comprehensive list of power supply brands and manufacturers. Despite the fact that it consists of more than 150 manufacturers, though, this list still doesn't reflect the entire market, which always seems to be in a state of flux. It can, however, be used as a guide to finding the difference between a bad deal and a bargain. Monitor buying guide. If you own a desktop computer, you'll need a monitor. The best overall monitor right now is the Dell UltraSharp U2713HM . It delivers fantastic performance on an extreme-definition (2,560x1,440-pixel), 27-inch screen, with great ergonomic options, and a useful assortment of connections, for $800.
---