Funny Stuff
The Mathematics of Christmas
December 2000 I guess it was an early sign that I was heading for a career in mathematics that, when I was a young child, the run-up to Christmas always presented me with a numerical puzzle. How could Santa Claus possibly visit all children at midnight on the same night? I never did get a satisfactory answer from my parents, whose stock response was "No one knows; he just does."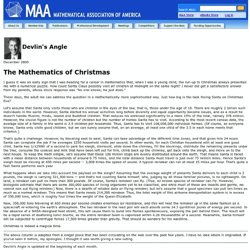 Arsenic-Based Life
Pain Rating
Shatner: Frying turkey videos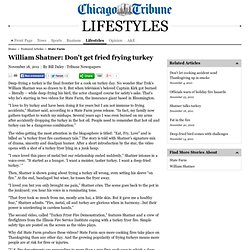 November 18, 2011 | By Bill Daley | Tribune Newspapers Deep-frying a turkey is the final frontier for a cook on turkey day. No wonder Star Trek 's William Shatner was so drawn to it. But when television's beloved Captain Kirk got burned – literally – while deep-frying his bird, the actor changed course for safety's sake. That's why he's starring in two videos for State Farm , the insurance giant based in Bloomington.