Bloggers
Blogs - The Model Driven Software Network
The Enterprise Architect - by Johan den Haan
Peter Friese's blog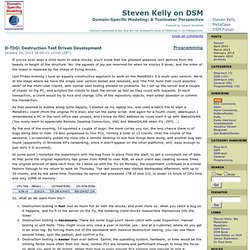 Steven Kelly on DSM
Code Generation 2011 is coming up fast: less than 3 weeks now! If you haven't already got your ticket, book now -- as I write, there's one discounted ticket left. As in previous years, the lineup is impressive: Ed Merks, Terence Parr, Jos Warmer, Johan den Haan, Pedro Molina and of course experts from MetaCase, Itemis, and Microsoft.
Juha-Pekka on DSM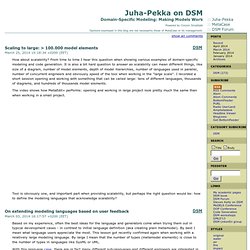 I have a pleasure joining the workshop on language design and implementation to defend my claim that the best level of abstraction for a language is as high as possible. I have no arguments against DSL'ish ideas of extending current programming languages, embedding a DSL to a host language, using better naming for API calls etc., but I don't see them raising the level of abstraction much from the implementation level.
New Thoughts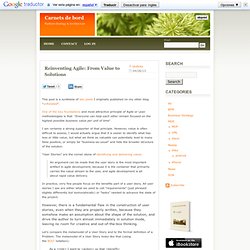 Carnets de bord
inShare0
voelterblog
The Gordian
Object-Oriented or Model-Driven Society?
The Metalevel
The thinker, Paris.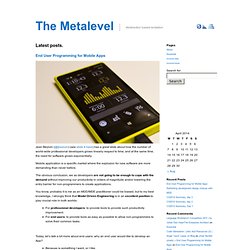 Models Everywhere
Software Modeling blog | MOdeling LAnguages
Model Driven Blogging
Meta plop
Karsten's Blog
This Is The Frequency
Jo MD blog
With or without a name
Fred Madiot
ekkes-corner: eclipse | osgi | mdsd | erp | mobile
Merks' Meanderings
Eclipse mde
The R&D director's blog
Sven Efftinge's Blog
Jérôme BENOIS's Weblog "MDE 2.0 :)"
Les news d'Aspectize
Plusieurs entrepreneurs viennent nous voir avec leurs idées de projet.
Active Knowledge Modeling
actifsource
news from the front
Is the purpose of an analysis model understanding the problem or proposing a solution?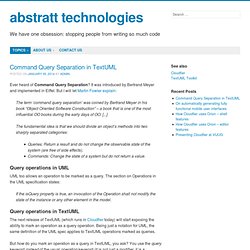 Andreas Graf's Software Engineering Blog