Unity
Any way of getting shadows in Unity Indie - UnityAnswers
Hi again, I know that there are no dynamic shadows in the non-pro version of unity however does anyone know of a way around this. I am trying to make a scary game and so shadows are very important for this. what I am looking for are: any downloadable addOns enabling dynamic shadows Work arounds possibly using raycast or linecast to check if there is something in the way of the light(don't mind if it is complicated but if it is code please make sure it is javascript)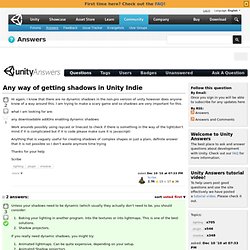 Object2Terrain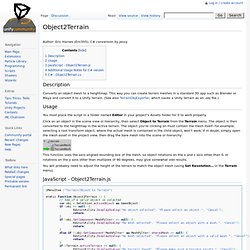 Author: Eric Haines (Eric5h5); C# conversion by Jessy Description Converts an object mesh to a heightmap.
thank for yor answer Duck, I finally figured it out. I paste the code I used so that anyone who has the same problem can check it out. It is not that good but I hope it helps. Unluckily if you modify the terrain at runtime it doesnt reset to the original heights it had before you played the scene.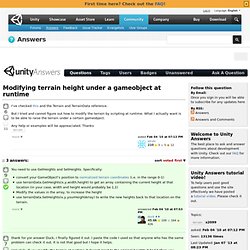 Modifying terrain height under a gameobject at runtime - UnityAnswers
Messing with Morphs! (Updated with Face now)
Blend shape animation!
Dunno. I suspect it's mostly because no one here has asked for it in the distant past when Unity first started out and that very few people here would have made use of it. Right now, I don't need it. I can get by with bone based setups. However, I WILL need it later on when my characters make use of the morph functions in my 3d package for both morphing and complex facial animation.
What are the Syntax Differences in C# and Javascript? - UnityAnswers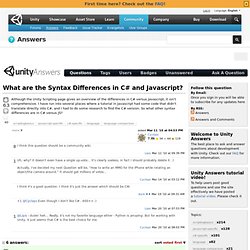 The purpose of this answer is to provide a single point of reference for the syntactical differences between C# and JS. It is mainly for people who have already made their decision as to which language to use, and might need to know the differences (for instance, to translate a script from one language to another). If you want to know more about why you might choose one language over another in Unity, there are several other Questions - for instance: How should I Decide...
Tools & Resources » Six Times Nothing
Six Times Nothing develop a range of in-house tools and extensions to the Unity Game Engine for use in our internal projects. We have recently decided to start releasing some of these tools to the Unity community for free. We're proud of the tools we have developed and have found them to be invaluable additions to our own projects and it's great for us to know that they can be useful in helping to enable other developers to create great games with Unity too. The first two tools to be released are the River Tool and the Road/Path Tool .