Unity
Any way of getting shadows in Unity Indie - UnityAnswers. Hi again, I know that there are no dynamic shadows in the non-pro version of unity however does anyone know of a way around this.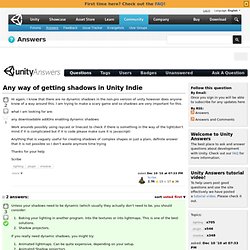 I am trying to make a scary game and so shadows are very important for this. what I am looking for are: any downloadable addOns enabling dynamic shadows Work arounds possibly using raycast or linecast to check if there is something in the way of the light(don't mind if it is complicated but if it is code please make sure it is javascript) Game Development Tool. Object2Terrain. Author: Eric Haines (Eric5h5); C# conversion by Jessy Description Converts an object mesh to a heightmap.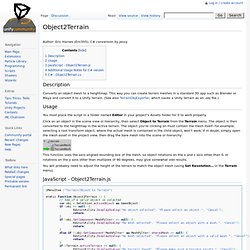 Modifying terrain height under a gameobject at runtime - UnityAnswers. Thank for yor answer Duck, I finally figured it out.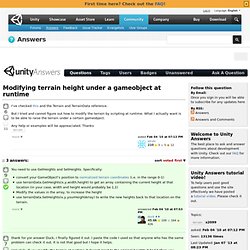 I paste the code I used so that anyone who has the same problem can check it out. It is not that good but I hope it helps. Unluckily if you modify the terrain at runtime it doesnt reset to the original heights it had before you played the scene. Messing with Morphs! (Updated with Face now) Blend shape animation! What are the Syntax Differences in C# and Javascript? - UnityAnswers. The purpose of this answer is to provide a single point of reference for the syntactical differences between C# and JS.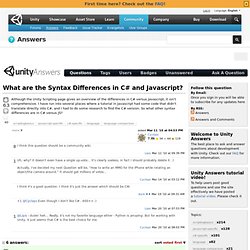 It is mainly for people who have already made their decision as to which language to use, and might need to know the differences (for instance, to translate a script from one language to another). If you want to know more about why you might choose one language over another in Unity, there are several other Questions - for instance: How should I Decide...
---